Podcast: Play in new window | Download | Embed
Podcast (crusaders-for-nutemple): Play in new window | Download | Embed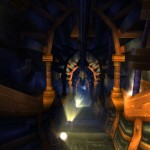 Yes we are still continuing this great podcast and here is episode 11. Its a week late getting online but it has been a busy week and you will see episode 12 quickly after this one.
We would like to thank Scott Thorpe for his great intro music for the show.
Some great talk about the quest chain we completed in the new Gulnais area and the quest chains with no xp or loot until turned in.
Laura discusses her Goblin Preist Tefnuit
She completed the quests to level 12 to get off island and made it over to the undercity, the new way to turn in quests, learning to be a healer
I Cover some tips on how to make gold in the AH.. Buy low sell high after one week in the AH I have made over 20g most is reinvested in the AH right now though.
Some discussion around some interesting mods to add to your game screen. There is so much more.
WordPress Specialist with a focus on... runs on the Genesis framework
Genesis empowers you to quickly and easily build incredible websites with WordPress. Whether you're a novice or advanced developer, Genesis provides the secure and search-engine-optimized foundation that takes WordPress to places you never thought it could go. It's that simple - start using Genesis now!