So you have se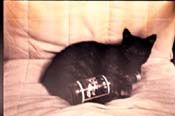 en an email something like the one below. Well I can say with almost 100% certainty that is is all a scam. Why well I use numerous emails for various thing and I also have what are call spam trap emails. Whenever something like this goes around I see it appear in all my email accounts including the spamtrap ones. I have seen this several times today, so don't fall for it it is all a scam.
—This is a Scam Email Below—

Hello, We are looking for a payment officer in your area. Your job duties will be to: Process payments from our clients and send weekly reports on status of payments of transactions. This is in view of our not having a branch office presently in Canada, also becouse of paypal and ebay policies wich is prohibit to work directly with residents of some countries. You do not need to have an office and you will have a free time doing your permanent job, you will also secure a good income during the process. Requirements: You need to have at least one bank account in Canada. availability of 2 – 3 hours of spare time per day and internet access or mobile phone for communication. If you are interested in this vacancy message us to: Dick@spammer-congame-website
WordPress Specialist with a focus on... runs on the Genesis framework
Genesis empowers you to quickly and easily build incredible websites with WordPress.Whether you're a novice or advanced developer, Genesis provides the secure and search-engine-optimized foundation that takes WordPress to places you never thought it could go. It's that simple - start using Genesis now!
Take advantage of the 6 default layout options, comprehensive SEO settings, rock-solid security, flexible theme options, cool custom widgets, custom design hooks, and a huge selection of child themes ("skins") that make your site look the way you want it to. With automatic theme updates and world-class support included, Genesis is the smart choice for your WordPress website or blog.