Podcast: Play in new window | Download | Embed
Subscribe: Google Podcasts | RSS
Podcast (crusaders-for-nutemple): Play in new window | Download | Embed
Subscribe: Google Podcasts | RSS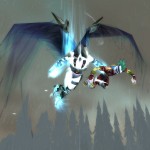 We would like to thank Scott Thorpe for his music in show.
WarCraft news from the world:
Nothing really to say on News from the World of WarCraft aside from its Christmas and well playtime is in full tilt.
Our Week outside WarCraft:
John:
I was fortunate enough to receive the collector's edition of Cataclysm for Christmas. The lil'Deathewing is pretty cool and it has some great information on the history and lore of the World of WarCraft. In addition, a great DVD of behind the scenes information about the making of Cataclysm and why you could not fly in the old world before. It also come with a collector's book of concept Art and finished artwork for the game. Plus you can even dress up your desk with a new DeathWing mouse pad.
Laura:
Finished up Christmas shopping, Enjoyed Christmas, spent most my free time playing on my other char. this week, trying to make some gold. Worked on websites.
Ahkonsu's in Game:
—-> What I have been up to past week in game
John will be covering his undead Rogue
Some general talk on quests and leveling and other misc stuff from game.
Tefnuit's in Game
—–> What I have been up to in game past of week
Laura will be covering her Goblin Priest Tefnuit
Talk about what it took to get the first mount and who and where to go get it from….
I ran out past org to where the boat had dropped me off from Kazan thinking I had to get back there, after research found out there is goblin slums in org. the seller of the trikes was Cal Worthington. See the commercial below to find out more about Cal and his dog Spot..
[vsw id="iGEYCsvPJzw" source="youtube" width="425″ height="344″ autoplay="no"]
Questing in Silverpine forest, completed all quests there for achievement, and achievement for exploring the whole area
Final Notes for closing topics ect:
I cover tips on how to make gold in the AH.. Buy low sell high after one week in the AH I have made over 20g most is reinvested in the AH right now though.
Laura discusses an interesting game glitch, could not see the quest that was going on, in which Ahkosu was running around naked and battling invisible demons.
Tell A Friend
Have you found this post useful and think others should know about it/ Fill out the form below and tell your friends about this great website and postings.
https://www.johnoverall.com/wp-content/uploads/2017/10/John-Overall-Logo-PNG-to-go-on-GREEN-Horizontal.png
0
0
John
https://www.johnoverall.com/wp-content/uploads/2017/10/John-Overall-Logo-PNG-to-go-on-GREEN-Horizontal.png
John
2010-12-27 01:17:19
2011-02-02 14:25:36
Crusaders for NuTemple Podcast Episode 12