Podcast: Play in new window | Download | Embed
Subscribe: Google Podcasts | RSS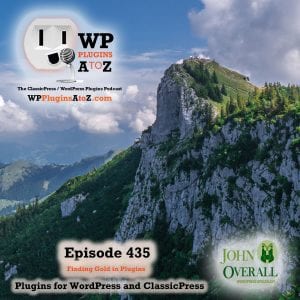 It's Episode 435 and I've got plugins for Cleaning Your Assets, Adding Scripts, Creating a Table of Contents and ClassicPress Options. It's all coming up on WordPress Plugins A-Z!
Asset Cleanup Plugin for Page Speed, SOGO Add Script to Individual Pages Header Footer, Table of Contents Reloaded and ClassicPress options in Episode 435
Producer Credits:
Show Art: Angel Lemus
All the show notes can be found at: WPPluginsAtoZ.com
Take a minute and Subscribe to the newsletter and get out there and hit everyone in the mouth, Spread the word about WP Plugins A to Z and catch it live every Thursday at noon on our YouTube Channel.
This show is listener supported and we can use more than just money to help the show grow.
Give some value back by:
Submitting Your Artwork at the WP Plugins A to Z art Generator at https://wppluginsatoz.com/artwork/ ?
Donating money to help the show
Submit articles news and information
Submit plugin suggestions for reviews
You can also create a monthly donation at Patreon
I have a great set of plugins for you today!
Starting out I have a plugin that I have yet to use but felt you would want to know it exists. Keep in mind the ratings are based off the descriptions on their site and using their demo if available.
We have a special one today a review sent in by a Producer.
Sent in by Frintz Barnes of https://BizProMedia.com
Fritz Barnes has been full-time in IT since 1985, self-employed since 1993, and has been building websites since 1999. In early 2001, Fritz invented WordPress. Wait, no he didn't…but he did launch a website that used a custom CMS – hand-coded in notepad – before that was even a thing, two years before WordPress was born.
In 2012, Fritz re-branded as <a href="https://bizpromedia.com">BizProMedia</a>, where he provides web design and development and related services to his clients.
Asset Cleanup Plugin for Page Speed
https://wordpress.org/plugins/wp-asset-clean-up/

Released:
03 December 2015
Last Updated:
01 August 2023
This plugin is written and maintained by Gabriel Livan, a UK-based WordPress full stack developer. Livan is a Certified Codeable WordPress Expert and a TopTal (top 3%) Developer.
As of this writing (October 2019) the plugin is has over 40,000 active installations, and a solid 5-star rating with over 300 reviews.
The idea is to identify resources (css, javascript) that are loading on pages where they are not needed, and disable them on those pages.
This will have a number of benefits for your website. Faster page loads means happier visitors and a happier Google. It also means fewer HTTP requests, fewer conflicts, cleaner source code and server log files, and more. See the plugin's page in the repository for a long list.
The plugin has a number of other features, some of which overlap with what many caching plugins and CDN's also offer.
This is a plugin that does require some technical knowledge to use, and will take some time to configure.
I have just started dabbling with this plugin and I love the concept. Overall, so far I think this is a great plugin, and an important addition to your arsenal of tools for optimizing your sites.
He did not give a rating for me and since it has a Pro version it gets
Rating 4 Dragons
——————-
WordPress News and Info
Millions of Sites Exposed by Flaw in Jetpack WordPress Plugin
https://www.bleepingcomputer.com/news/security/millions-of-sites-exposed-by-flaw-in-jetpack-wordpress-plugin/
Security News in WordPress 5.3
https://blog.wpsec.com/security-news-in-wordpress-5-3-2/
7 Essential WordPress Tips You Need to Know This Year
https://donklephant.com/7-essential-wordpress-tips-you-need-to-know-this-year/
Johns news:
Plugin Dynamics is starting to come to life and we have 4 plugins just about ready for general testing plus 3 more in the cue.
Date Calculator
Metric Conversions
Clock de Resistance
Tabular Data dynamics
In the development cue
The Tarot Reading plugin
Intranet Lockdown
All coming soon to https://PluginDynamics.com
Contest You Can Win a Premium Plugin License For:
Contests Powered by Simple Giveaways who kindly provides us with the premium version for our contests.
The Winner of the last contest for Social Rabbit is Sherri congratulations.
Social Rabbit Plugin reviewed in Episode 428. This is an excellent plugin to connect to your social networks and share out your content.
Find out more at Social Rabbits site https://alidropship.com/addons/social-rabbit/
Our next contest is coming soon
Visit http://WPPluginsAtoZ.com/contests for more info.
After you enter the contest remember to share on social media and you get more chances to win.
For all developers who would like to support the show. You can donate a premium license to be used in a future contest please go to WPPluginsAtoZ.com/PluginContest
SOGO Add Script to Individual Pages Header Footer
https://wordpress.org/plugins/oh-add-script-header-footer/

Released:
28 December 2013
Last Updated:
20 January 2020
The Lowdown:
There are times when you want to add scripts or additional code site wide and there are times when you only need it on a specific page. This plugin helps with the latter one, when you only need to add a script to a page or two. This simple to use plugin allows you to add your code to specific pages or even to the whole site if need be.
Rating 5 dragons
Listener Feedback / Audio Clips
I like listener feedback. You can leave feedback via our contact page, Speakpipe or email us directly.
Feedback is great and I do listen, I had a suggestion last week to improve my show notes and that is coming from this episode forward.
Thanks to G
Who pointed out the misspelling we had going on for many episodes in our show art we have moved on from being the WPPUGins show back to the WPPLUGins show. We are pugs no more……Plus a couple other things he noticed that I fixed.
Www.gerbengvandijk.nl
The Netherlands
—————————————-
Show Supporters
This Show is is supported by you our producers as a Value for Value model meaning if you get any value out of it then give some value back by becoming a producer and helping the show out.
You can do that by
Donating money to help the show Donations of $50 and over are credited with a Executive Producer Credit in the Show Notes, and their note is read out on the show.
Submitting art work at the WP Plugins Art generator,
Submit articles news and information
Submit plugin suggestions for reviews
You can also create a monthly donation at Patreon
Or something I may not have thought of.
I'd like to acknowledge all the producers who have supported the show in the various ways.
This weeks shows Art Work comes from:
Angel Lemus of https://www.koadigital.com/
And a big thank you to all our Producers who came in under $50 and to those who have set up weekly subscriptions they will remain anonymous and I thank you very much.
All these small subscriptions really help the show out.
A big thank you to those who have hired me because of the Podcast, thank you that is as good as donating to the show..
This show is brought to you by:
CMS Commander Affiliate Link
Save time and money managing multiple WordPress websites
If you have several WordPress websites to manage, either for your clients or yourself. Then you know how much time it can take managing them all. Time that is spent on mundane administrative tasks and then loosing that time for your important business tasks. CMS Commander is an online service that solves this problem and makes managing multiple WordPress websites fast and easy as simple as controlling a single site. By placing all your websites into one powerful dashboard CMS Commander makes it possible to update, backup and manage them all at the same time in one place.
Features of CMS Commander include:
1-click Updates of plugins, themes and WordPress core for all sites
Automatic scheduled Website backups
Website cloning and restoring
Uptime monitoring and Analytics integration
Bulk posting and automatic content
Sign up now for your 14 day trial at CMSCommander.com and access all the features that will allow you to manage more websites and save time.
Table of Contents Reloaded
https://wordpress.org/plugins/table-of-contents-reloaded/

Last Updated:
01 January 1970
The Lowdown,
On the occasional project I have needed to create a Table of Contents to be listed in a side bar or on a seperate page. This is an excellent plugin for that it is a continuation of an older plugin that was picked up by Yehuda Hasine and allows for easy presentation of a table of contents on your site. With several short codes you can control how it looks and what to display.
Rating 5 Dragons.
ClassicPress Options
ClassicPress is a fast growing fork of WordPress that is starting to come into its own. ClassicPress is focused on Business Websites runs fast and is looking pretty good. There are a few plugins specifically for ClassicPress and all plugins for WordPress 4.9.9 work well on it. I do believe it has a future.
One thing I am looking forward to in the ClassicPress World is the expansion of the number of ClassicPress specific plugins and their own repository. Currently there are not a lot of ClassicPress specific plugins but I do know it is going to grow and I'll have to expand this segment then. Who knows, it could take over the whole show.
This week for ClassicPress I have:
News:
The Self-Nominations for the 2020 CP Management Committee Elections
Full list of nominees
https://forums.classicpress.net/c/governance/2020-committee-candidates
https://forums.classicpress.net/t/about-the-2020-committee-candidates-category/1675
General info:
Random Links to ClassicPress supporters
ClassicPress Plugin
From Codepotent
Update Manager RC1 is out!
https://codepotent.com/update-manager-rc1-is-out/
Some big news in the community the Woocommerce plugin has been forked and will be Classic Commerce more information here
https://forums.classicpress.net/t/classic-commerce-roadmap-version-1-2/1668
Essential plugins/extensions for Classic Commerce
https://forums.classicpress.net/t/essential-plugins-extensions-for-classic-commerce/1073
ClassicPress Resources:
For some up to date news on ClassicPress check out the ClassisPress Club news
https://classicpress.club/
An alternate forum for the non-techies.
"Must Have" Plugins List
https://forums.classicpress.net/t/must-have-plugins-list/1163
To find a listing of ClassicPress specific plugins check out this link https://forums.classicpress.net/t/plugins-built-specifically-for-classicpress/1011?u=codepotent there is currently 37 42 plugins here and growing. I look forward to the day they have their own repository. I can still recall WP when it had a small repository.
CodePotent's plugin directory
https://codepotent.com/classicpress/plugins/
Closing out this Episode the Plugins I covered were:
John's Plugins: Asset Cleanup Plugin for Page Speed – 4, SOGO Add Script to Individual Pages Header Footer – 5, Table of Contents Reloaded – 5
Reminders / Commercial / Promotions:
The Latest Interview is out tsnd is with Kim Gjerstad from Mail Poet get it here https://wppluginsatoz.com/wp-plugins-a-to-z-interview-47-with-kim-gjerstad-from-mail-poet/.
The next WordPress Meetup in Victoria will be in November 28, 2019 in Victoria Topic to come and will be broadcast Live on YouTube. For location and more information Check them out at https://wppluginsatoz.com/meetup .
Speaking of finding Gold check out my new venture at TheRoguesTavern.com and follow my adventures into the wild searching for gold, out on the range and more.
If you have suggestions on plugins you would like to have reviewed please submit them on the website at https://wppluginsatoz.com/submit-plugin-review/
For all developers who would like to support the show. You can donate a premium license to be used in a future contest please go to WPPluginsAtoZ.com/PluginContest
Be sure and subscribe to our Newsletter.
Just some reminders:
You can support the show at wppluginsatoz.com/donate
All the show notes can be found at: WPPluginsAtoZ.com
Subscribe and review the show at:
Stitcher Radio, Google Play and in the iTunes Store
Follow the show on Twitter @wppluginsatoz
Join Us on Our Facebook Page
Subscribe and Check out our Training Videos, Screencasts and Watch us Live on YouTube every Thursday at Noon PST
How to Contact Me:
John can be contacted at:
https://www.johnoverall.com/wp-content/uploads/2019/11/Episode-435-show.jpg
1500
1500
Ahkonsu
https://www.johnoverall.com/wp-content/uploads/2017/10/John-Overall-Logo-PNG-to-go-on-GREEN-Horizontal.png
Ahkonsu
2019-11-21 12:52:51
2019-11-21 12:52:51
Finding Gold in Plugins