Podcast: Play in new window | Download | Embed
Subscribe: Google Podcasts | RSS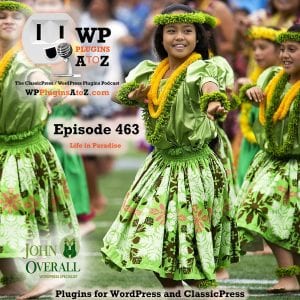 It's Episode 463 with plugins for Happy Files – Happy Life, Keeping Malware and Spam at Bay, Tracking Amazon Links and ClassicPress Options. It's all coming up on WordPress Plugins A-Z!
Cerber Security – Antispam & Malware Scan, Happy Files, Amazon Affiliate Product Availability Tracker and other ClassicPress options in Episode 463
And this is "WP Plugins A to Z, The Best ClassicPress/WordPress Podcast in the Universe "
With great appreciation for the No Agenda Show and inspiration of ideas and the occasional stolen sound clip.
This is a value for value show and I look forward to everyone providing some value back.
Start by Subscribing to the newsletter for additional information and get out there and hit everyone in the mouth, Spread the word about WP Plugins A to Z and catch it live every Thursday at noon PDT on my YouTube Channel.
Producer Credits:
Executive producer:
Show Art:
Angel Lemus — http://www.koadigital.com
All the show notes can be found at: WPPluginsAtoZ.com
Johns Rant:
Its Episode 463 and its been a semi quiet week for the show although I have been quite busy. There was some activity from you the producers of the show. I still need your support to keep this show going forward and help keep the sword of Damocles from snapping the thread it is attached to. Keep the feedback coming….. This is #22 of 52 episodes for 2020..
And as we are now 22 weeks into 2020 and 11 weeks of the Rona, life was returning in many places but the media has found a new focus and is fanning the flames of protesters who have turned into looters and rioters, mostly in the US but also across the globe.
We are only a couple weeks away from the longest day of the year and here's hoping it brings some great changes to the craziness we have experienced the last couple months.
These are indeed strange times to be alive and I am doing what I can to prepare my kids and grandkids for what is coming.
One of the best things you can do is relax take a breath, buy a gun, go for a walk, build a garden and realize things not nearly as bad as the news says they are. So save your sanity and your Amygdala and find out why your not gonna die by listening to the No Agenda Show

I do have show spaces coming up for guest hosts. If you would like to join me as a guest host on the show, please reach out to me at john@wppro.ca You can also go to https://wppluginsatoz.com/guesthost/
I have some news from the world of WordPress for you today as well as some great plugins.
Let's get to the fun we have today.
WordPress News and Info
News this week:
10 WordPress Developer Skills You Should Invest In (2020 Edition)
https://torquemag.io/2020/05/wordpress-developer-skills/
5 Best Practices for Maintaining Your WordPress Database
https://torquemag.io/2020/05/wordpress-database-maintenance/
Yoast vs. Rank Math Comparison: Which SEO Plugin is the Best?
https://wppluginsify.com/wordpress-plugins/yoast-rank-math-seo-plugin-comparison/
Know more about IP Address BlackListing
http://www.ipconfig.in/ip-address-blacklisting/
Automattic pumps $4.6M into New Vector to help grow Matrix, an open, decentralized comms ecosystem
https://techcrunch.com/2020/05/21/automattic-pumps-4-6m-into-new-vector-to-help-grow-matrix-an-open-decentralized-comms-ecosystem/
https://wptavern.com/automattic-invests-4-6m-in-new-vector-creators-of-the-matrix-open-standard-for-decentralized-communication
This is an interesting event, considering this program may be the future of the internet and social media platforms with federated connections with some completely walling themselves off and others fully open. Federation of the web may just be the future. Moving away from the walled gardens of the main social platforms currently in use.
Trivia:
Matts Famous Quotes
https://www.idrlabs.com/quotes/matt-mullenweg.php
Donor – Support
Show Producers
This Show will not work without you, the producers, as it is a Value for Value model, meaning if your'e getting any value out of it then give some value back and help the show out.
I'd like to acknowledge all the producers who have supported the show in the various ways over the last week.
This weeks show Art Work comes from:
Angel Lemus — http://www.koadigital.com
This week's Executive Producer/'s are:
A big thank you to all the Producers who came in under $50 and to those who have set up weekly subscriptions they will remain anonymous and I thank you very much.
All these small subscriptions really help the show out.
A big thank you to those who have hired me because of the Podcast, thank you that is as good as donating to the show.
You can Support the Show by:
Donating money to help the show Donations of $50 and over are credited with an Executive Producer Credit in the Show Notes, and their note is read out on the show.
Submitting art work at the WP Plugins Art generator,
Submit articles news and information
Submit plugin suggestions for reviews
You can also create a monthly donation at Patreon
Or something I may not have thought of.
ClassicPress Options
ClassicPress is a fast growing fork of WordPress that is starting to come into its own. ClassicPress is focused on Business Websites, runs fast and is looking pretty good. There are a few plugins specifically for ClassicPress and all plugins for WordPress 4.9.9 work well on it. I do believe it has a future.
One thing I am looking forward to in the ClassicPress World is the expansion of the number of ClassicPress specific plugins and their own repository. Currently there are not a lot of ClassicPress specific plugins but I do know it is going to grow and I'll have to expand this segment then. Who knows, it could take over the whole show.
This week for ClassicPress I have:
—————————–
Just a note for my ClassicPress listeners please send me info to help keep the ClassicPress section full.
Random Links to ClassicPress supporters
ClassicPress Resources:
For some up to date news on ClassicPress check out the ClassisPress Club news.
https://classicpress.club/
An alternate forum for the non-techies.
"Must Have" Plugins List
https://forums.classicpress.net/t/must-have-plugins-list/1163
To find a listing of ClassicPress specific plugins check out this link https://forums.classicpress.net/t/plugins-built-specifically-for-classicpress/1011?u=codepotent there is currently 37 42 49 50 52 55 plugins here and growing. I look forward to the day they have their own repository. I can still recall WP when it had a small repository.
CodePotent's plugin directory
https://codepotent.com/classicpress/plugins/
WordPress plugins
Sent in by Angel Lemus
Cerber Security, Antispam & Malware Scan
https://wordpress.org/plugins/wp-cerber/

Last Updated:
01 January 1970
I have tried many of the other "FREE" security packages and this one I love because the interface is the easiest to use and is much less confusing than for example Wordfence. Another great thing about this one is that once you set it up to your preferred conditions you can export the config file and upload it to other installations so it saves you a lot of time.
Another really cool feature is that it lets you create a "Custom Login URL" (we should all do this keep the bad guys out) otherwise you would need yet another plugin for this.
There is a free version and paid Pro upgrade so I give this one 4 stars!
Rating 4 Dragons
——————————–
Sent in by Angel Lemus
Happy Files
https://happyfiles.io/
https://wordpress.org/plugins/happyfiles/

Last Updated:
01 January 1970
Organize your entire media library, via drag & drop, in nestable categories. Arrange thousands of files as you would do on your computer.
Create, rename, delete, and nest your categories to your liking.
This Plugin has a PLUS that makes it better than most media organizers, you can also create directories to organize your pages and posts, the plugin creates a side bar in your Media, Pages and Posts so you can create your category directories. This is really nice if your website has many pages and/or posts. Organizing your pages and posts is optional. This is the best organizer I have found yet.
The Free version lets you make 10 Categories, for many this may be enough, the PRO version lets you make unlimited categories. Pro is a one time payment of $19.
Here is a video on how to use it- https://www.youtube.com/watch?v=iugeNmdgGAM
He sent a followup a few days later
I just found a really cool feature of this plug in that I wanted to add to the review. But I dont remember if I already sent it to you.
Let me know. This one is really cool.
Check it out you can organize your pages in categories like you can do the media files. This is awesome.
If you have a page with many pages this helps you to clean up the mess and get to your pages much quicker.
Rating 4 Dragons
——————————–
Sent in by George Plana
Amazon Affiliate Product Availability Tracker
https://www.productavailable.com/
https://wordpress.org/plugins/product-availability-checker/

Last Updated:
01 January 1970
Frustrated with Amazon product links pointing to products that are no longer available, we created a simple plugin that checks all your posts and pages for Amazon product links and checks their availability.
In a matter of minutes you get a report of all your expired product links.
We've used the plugin to diagnose a bunch of affiliate sites, and replaced links that were no longer converting.
You can check the plugin for free https://wordpress.org/plugins/product-availability-checker/
Please let us know your opinion 🙂
Rating 4 Dragons
——————————————
This show is brought to you by:
CMS Commander Affiliate Link
https://wppluginsatoz.com/cmscommander
Save time and money managing multiple WordPress websites
If you have several WordPress websites to manage, either for your clients or yourself, then you know how much time it can take managing them all. Time that is spent on mundane administrative tasks and then loosing that time for your important business tasks. CMS Commander is an online service that solves this problem and makes managing multiple WordPress websites fast and easy as simple as controlling a single site. By placing all your websites into one powerful dashboard CMS Commander makes it possible to update, backup and manage them all at the same time in one place.
Features of CMS Commander include:
1-click Updates of plugins, themes and WordPress core for all sites
Automatic scheduled Website backups
Website cloning and restoring
Uptime monitoring and Analytics integration
Bulk posting and automatic content
Sign up now for your 14 day trial at CMSCommander.com and access all the features that will allow you to manage more websites and save time.
Listener Feedback / Audio Clips
Ramdom feedback: In addition to knowing about specific plugins, I like to see lists of what plugins people use on a site so I can see what combos work together to achieve a specific goal.
tweted by
Nancy Houle
@BusinessLocker
@Groundhoggwp
for marketing automation,
@mailhawkwp
for email delivery and
@lifterlms
for membership. They all play very nice together
———–
Sent in by Angel
John I don't know if you allow this on a show for Plug-ins, but I though I'd give it a try because this is something all wordpressers will appreciate. This is not a Plug-in, it is a desktop app. And it has become one of my favorite tools, it is a local environment to install WordPress and work locally, it is so easy use and a huge time saver over creating a subdomain on your hosting plan and installing wordpress and developing it that way. Local automatically installs a fresh vanilla copy of wordpress which is not full of your hosting provider's bloatware.
One of the main downfalls of working locally has always been that you and your clients can never see your progress. Not anymore, Local allows you to create a tunnel to your local machine with a "live link" that you can send to your client, and it is only live while you allow it because it has a disable button. So you don't have to have perpetual open link into your local computer over any long period of time.
I dont think I will develop anything else online, not with this tool. It has saved me so much time, it handles the web server, PHP versions, Database creation, with one button. Oh and it also creates an SSL for you while you are in development..
Available for Windows, Mac and Linux.
This one deserves 5 stars (even though it is not a plugin).
————
Enter The Contest to Win!!:
Contests Powered by Simple Giveaways who kindly provides us with the premium version for our contests.
With thanks back to Martin who won this contest last time. He realized there were no projects he could use it for so it has been recycled back into the show. So we once again have a contest running to give away the key for Event Espresso.
We have a new contest and we are giving away a license for Event Espresso. Running May 8, 2020 until June 10, 2020
Enter for your chance to win either the Event Espresso 4 Everything License or the Event Espresso 4 Developer license.
Event Espresso is a flexible event registration, ticketing, and calendar plugin for WordPress. This plugin can handle a variety of events from organizing an annual conference for your company, holding training courses to teach CPR, hosting art or painting classes, or planning an event to raise money for a nonprofit.
Event Espresso can make your event registration and ticketing with WordPress enjoyable, easy and profitable. The best events registration and ticketing features come standard in the core WordPress events plugin plus fantastic support.
Both support licenses are valued at $300 and the coupon is good for one redemption. You choose which version best suits your needs.
For more about this plugin check out the Interview with Seth Shoults
Visit http://WPPluginsAtoZ.com/contests for more info.
After you enter the contest remember to share on social media and you get more chances to win.
For all developers who would like to support the show. You can donate a premium license to be used in a future contest please go to WPPluginsAtoZ.com/PluginContest
Closing out this Episode the Plugins We covered were:
John's Plugins: Cerber Security – Antispam & Malware Scan -4, Happy Files -4, Amazon Affiliate Product Availability Tracker – 4
Trivia:
Matts Famous Quotes
https://www.idrlabs.com/quotes/matt-mullenweg.php
Reminders / Commercial / Promotions:
The next WordPress Meetup in Victoria will be June 21, 2020. "This is just a get together", suggestions welcome and it looks like since this is a Sunday and we may still have troubles meeting in a pub I may look at something to break/bend the rules for an outdoor event. For location and more information Check them out at https://wppluginsatoz.com/meetup .
There is a new interview out with Sabrina Zeiban, a Developer who specializes in Speedimization https://wppluginsatoz.com/interview-50-with-sabrina-zeiban/ another new interview will be out next week.
Would you like to be on an interview show? Simply connect at https://wppluginsatoz.com/interview
Follow my Journey at TheRoguesTavern.com check out my adventures into the wild searching for gold, hiking, camping, out on the gun range and more.
If you have suggestions on plugins you would like to have reviewed please submit them on the website at https://wppluginsatoz.com/submit-plugin-review/
For all developers who would like to support the show. You can donate a premium license to be used in a future contest, please go to WPPluginsAtoZ.com/PluginContest
Be sure and subscribe to our Newsletter.
Just some reminders:
You can support the show at wppluginsatoz.com/donate
All the show notes can be found at: WPPluginsAtoZ.com
Subscribe and review the show at:
Stitcher Radio, Google Play and in the iTunes Store
Follow the show on Twitter @wppluginsatoz
Join Us on Our Facebook Page
Subscribe and Check out our Training Videos, Screencasts and Watch us Live on YouTube every Thursday at Noon PDT
How to Contact Me:
John can be contacted at:
https://www.johnoverall.com/wp-content/uploads/2020/06/Episode-463-show.jpg
1500
1500
Ahkonsu
https://www.johnoverall.com/wp-content/uploads/2017/10/John-Overall-Logo-PNG-to-go-on-GREEN-Horizontal.png
Ahkonsu
2020-06-04 12:55:59
2020-06-04 12:55:59
Life in Paradise