Podcast: Play in new window | Download | Embed
Subscribe: Google Podcasts | RSS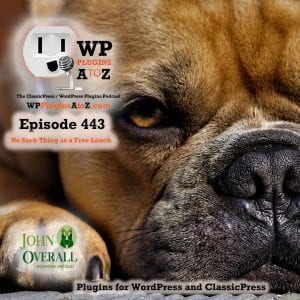 It's Episode 443 and I've got plugins for Speed, Free SSL Certs, Shopping Carts, Managing your Files and ClassicPress Options. It's all coming up on WordPress Plugins A-Z!
According to the Meuller Report your are listening to, "WP Plugins A to Z The Best ClassicPress/WordPress Podcast in the Universe "
This is a value for value show and I look forward to everyone providing some value back.
Be sure You are Subscribed to the newsletter for additional information and get out there and hit everyone in the mouth, Spread the word about WP Plugins A to Z and catch it live every Thursday at noon on my YouTube Channel.
Producer Credits:
Show Art: Angel Lemus of https://www.koadigital.com/
All the show notes can be found at: WPPluginsAtoZ.com
This show is listener supported and we can use more than just money to help the show grow.
Give some value back by:
Submitting Your Artwork at the WP Plugins A to Z art Generator at https://wppluginsatoz.com/artwork/ ?
Donating money to help the show
Submit articles news and information
Submit plugin suggestions for reviews
You can also create a monthly donation at Patreon
Johns Rant:
Its a cold snowy day here in Victoria with some real Candanavian weather, temps below freezing, having dropped to -3 that's about 35 for all my American listeners. We got a dump of about 1 foot of snow and well I am hunkered down inside the Brewery Overlook. Well we are off and I have started to hear from folks again and it seems all is not lost lets keep this going…. This is #3 of 52 episodes for 2020.. Working to provide you with the best WordPress/ClassicPress show on the interwebs.
I am looking for more participation from you my producers this year and if it does not appear I may just retire the show. I have had very little in feedback over the past 9 months and well I have no idea if people like it aside from the downloads which have been off.
WordPress News and Info
5 WordPress Security Tips to Protect Your Website
https://www.gravityforms.com/5-wordpress-security-tips-to-protect-your-website/
What to Watch for in WordPress in 2020
https://impress.org/wordpress-2020-news/
Talking about the block directory and more
Can the Block Directory and Business Interests Coexist?
https://wptavern.com/can-the-block-directory-and-business-interests-coexist
WordPress is changing so be ready.
What is Cross-Site Contamination?
https://securityboulevard.com/2020/01/what-is-cross-site-contamination/
if you have not experienced this you are either lucky or have kept your sites isolated.
Multiple Vulnerabilities Patched in Minimal Coming Soon & Maintenance Mode – Coming Soon Page Plugin
https://www.wordfence.com/blog/2020/01/multiple-vulnerabilities-patched-in-minimal-coming-soon-maintenance-mode-coming-soon-page-plugin/
Show Producers
This Show is is supported by you our producers as a Value for Value model meaning if you get any value out of it then give some value back by becoming a producer and helping the show out.
You can do that by:
Donating money to help the show Donations of $50 and over are credited with a Executive Producer Credit in the Show Notes, and their note is read out on the show.
Submitting art work at the WP Plugins Art generator,
Submit articles news and information
Submit plugin suggestions for reviews
You can also create a monthly donation at Patreon
Or something I may not have thought of.
I'd like to acknowledge all the producers who have supported the show in the various ways.
Talk about this weeks show Art Work comes from:
Angel Lemus of https://www.koadigital.com/
A big thank you to all our Producers who came in under $50 and to those who have set up weekly subscriptions they will remain anonymous and I thank you very much.
All these small subscriptions really help the show out.
A big thank you to those who have hired me because of the Podcast, thank you that is as good as donating to the show..
ClassicPress Options
ClassicPress is a fast growing fork of WordPress that is starting to come into its own. ClassicPress is focused on Business Websites runs fast and is looking pretty good. There are a few plugins specifically for ClassicPress and all plugins for WordPress 4.9.9 work well on it. I do believe it has a future.
One thing I am looking forward to in the ClassicPress World is the expansion of the number of ClassicPress specific plugins and their own repository. Currently there are not a lot of ClassicPress specific plugins but I do know it is going to grow and I'll have to expand this segment then. Who knows, it could take over the whole show.
This week for ClassicPress I have:
News:
ClassicPress made it to Softaculous!
https://www.classicpress.net/blog/category/news/
Another Hosting company is offering ClassicPress Hosting A2 hosting has jumped on board
General info:
LiteSpeed Cache Works With ClassicPress
ClassicPress, the new business-focused CMS that was forked from WordPress 4.9.x, is growing in popularity. LiteSpeed Cache for WordPress works out of the box with ClassicPress, and should continue to do so for the forseeable future.
ClassicPress Plugins
LiteSpeed Cache
https://wordpress.org/plugins/litespeed-cache/

Last Updated:
01 January 1970
The lowdown:
LiteSpeed Cache for WordPress (LSCWP) is an all-in-one site acceleration plugin, featuring an exclusive server-level cache and a collection of optimization features.
LSCWP supports WordPress Multisite and is compatible with most popular plugins, including WooCommerce, bbPress, and Yoast SEO.
Requirements
General Features may be used by anyone with any web server (LiteSpeed, Apache, NGiNX, etc.).
Rating 4 Dragons
—————————
Just a note for my ClassicPress listeners please send me info to help keep the ClassicPress section full.
Random Links to ClassicPress supporters
ClassicPress Resources:
For some up to date news on ClassicPress check out the ClassisPress Club news
https://classicpress.club/
An alternate forum for the non-techies.
"Must Have" Plugins List
https://forums.classicpress.net/t/must-have-plugins-list/1163
To find a listing of ClassicPress specific plugins check out this link https://forums.classicpress.net/t/plugins-built-specifically-for-classicpress/1011?u=codepotent there is currently 37 42 plugins here and growing. I look forward to the day they have their own repository. I can still recall WP when it had a small repository.
CodePotent's plugin directory
https://codepotent.com/classicpress/plugins/
WordPress plugins
Auto-Install Free SSL -Setup auto-renewal in minutes for all websites on cPanel
Submitted by Sherri Lynn
https://wordpress.org/plugins/auto-install-free-ssl/

Last Updated:
01 January 1970
The Lowdown:
Here is an article to help you with this
FREE SSL Certificate With LetsEncrypt
https://wpboulevard.com/install-free-ssl-certificate-for-wordpress-website/
SSl is one of the most important things you need and there are still a few hosts not providing the service for some reason.
Rating 4 Dragons
——————-
Simple Cart
Sent in by Igor Beni?
https://wordpress.org/plugins/simple-cart-solution/

Last Updated:
01 January 1970
The Lowdown:
Simple Cart is a cart solution that will provide customers of the site with an easy view of their current cart status. They are able to view Items, see the subtotal of the cart and also to update the quantity and remove those items.
For now it integrates with WooCommerce and Easy Digital Downloads. In the future,he plans to introduce premium features such as product search and similar.
Rating 4 Dragons
——————-
File Manager
https://wordpress.org/plugins/wp-file-manager/

Last Updated:
01 January 1970
The Lowdown:
You may from time to time find you need to access your files and folders for your website. This plugin helps solve that problem for you. Once installed you get a full fledged operations file maanger as if you ahd FTP'd into your website. This is a powerful tool and be sure to disable and remove it after you have finished using it as a simple mistake to disbale your site completly.
Rating 5 Dragons
This show is brought to you by:
CMS Commander Affiliate Link
https://wppluginsatoz.com/cmscommander
Save time and money managing multiple WordPress websites
If you have several WordPress websites to manage, either for your clients or yourself. Then you know how much time it can take managing them all. Time that is spent on mundane administrative tasks and then loosing that time for your important business tasks. CMS Commander is an online service that solves this problem and makes managing multiple WordPress websites fast and easy as simple as controlling a single site. By placing all your websites into one powerful dashboard CMS Commander makes it possible to update, backup and manage them all at the same time in one place.
Features of CMS Commander include:
1-click Updates of plugins, themes and WordPress core for all sites
Automatic scheduled Website backups
Website cloning and restoring
Uptime monitoring and Analytics integration
Bulk posting and automatic content
Sign up now for your 14 day trial at CMSCommander.com and access all the features that will allow you to manage more websites and save time.
Listener Feedback / Audio Clips
I like listener feedback. You can leave feedback via our contact page, Speakpipe or email us directly.
Greetings from Extensions Team. You are doing really great.
We will feel really good if we can collaborate.
Please let us know if you are interested.
Regards
Divya
https://elextensions.com/
—————————————-
Contest You Can Win a Premium Plugin License For:
Contests Powered by Simple Giveaways who kindly provides us with the premium version for our contests.
We have a new contest sponsored by me JohnOverall.com a simple one to get us started on the new year. You can Win a $25 Amazon Gift certificate just head over to enter
Add a contest for the following $25 Amazon Giveaway to a select page announced only on the show
Win a $25 Amazon Gift Card from JohnOverall.com
Who doesn't like free stuff and well a $25 gift card for Amazon could help you with your next purchase. This prize is offered up by JohnOverall.com. Just enter your name and email to win.
Visit http://WPPluginsAtoZ.com/contests for more info.
After you enter the contest remember to share on social media and you get more chances to win.
For all developers who would like to support the show. You can donate a premium license to be used in a future contest please go to WPPluginsAtoZ.com/PluginContest
Closing out this Episode the Plugins I covered were:
John's Plugins: Auto-Install Free SSL – 4, Simple Cart – 4, File Manager – 5, LightSpeed cache – 4
Reminders / Commercial / Promotions:
The next WordPress Meetup in Victoria will be February 25, 2020 in Victoria "Assessing Your Website Host". You will learn how to assess your website host. Is your hosting company and hosting package really meeting your needs? Learn how to compare hosting companies and their packages, decide what services you need, what you don't need, how to know how much space you need, etc." and will be broadcast Live on YouTube. For location and more information Check them out at https://wppluginsatoz.com/meetup .
There is a new Interview coming next week where I talked with Kenny Lundbäck WP Hydra Code about hos Order and Inventory Managing plugin for Woocommerce. Keep an eye open for it.
Follow my Journey at TheRoguesTavern.com check out my adventures into the wild searching for gold, hiking, camping, out on the gun range and more.
If you have suggestions on plugins you would like to have reviewed please submit them on the website at https://wppluginsatoz.com/submit-plugin-review/
For all developers who would like to support the show. You can donate a premium license to be used in a future contest please go to WPPluginsAtoZ.com/PluginContest
Be sure and subscribe to our Newsletter.
Just some reminders:
You can support the show at wppluginsatoz.com/donate
All the show notes can be found at: WPPluginsAtoZ.com
Subscribe and review the show at:
Stitcher Radio, Google Play and in the iTunes Store
Follow the show on Twitter @wppluginsatoz
Join Us on Our Facebook Page
Subscribe and Check out our Training Videos, Screencasts and Watch us Live on YouTube every Thursday at Noon PST
How to Contact Me:
John can be contacted at:
https://www.johnoverall.com/wp-content/uploads/2020/01/Episode-443-show.jpg
1500
1500
Ahkonsu
https://www.johnoverall.com/wp-content/uploads/2017/10/John-Overall-Logo-PNG-to-go-on-GREEN-Horizontal.png
Ahkonsu
2020-01-16 12:41:13
2020-01-16 12:41:13
No Such Thing as a Free Lunch