Podcast: Play in new window | Download | Embed
Subscribe: Google Podcasts | RSS
The Colours of WordPress Plugins
It's Episode 552 and we have plugins for Simply Guests, Email First, Meow-ocalypse, Loco Translations, Sliding Smart, MetaSliding all over… and ClassicPress Options. It's all coming up on WordPress Plugins A-Z!
(Simply) Guest Author Name, Email Before Download, Apocalypse Meow, Loco Translate, Smart Slider 3, Slider, Gallery, and Carousel by MetaSlider – Responsive WordPress Plugin……. and ClassicPress options on Episode 552.
John's Intro:
This is a value for value show and I look forward to everyone providing some value back.
Before I get started, you will want to hang around to the end of the show for our Q & A segment with Amber…. and to those listening on the podcast, you may want to check out the YouTube version which has some great discussions before the show starts…
Producer Credits:
Executive producer:
Nobody this week, maybe next week!
Show Art:
Greg's Graphics (Greg Holdsworth) — https://gregsgraphics.com
All the show notes can be found at: WPPluginsAtoZ.com
Check out all the art work at https://wppluginsatoz.com/show-art-submitted/
To Submit Artwork go here https://wppluginsatoz.com/artwork/
Amber's Rant:
This is #13 of 52 episodes for 2022! So many people think of 13 as an unlucky number, though honestly I have always loved this number! 13 has been skipped in buildings and avoided on ships for many years, though it seems to be happening less these days. Friday the 13th has a bad wrap, though if you look deeper into our known history, Friday was Freya's day, and 13 was her number, so Friday the 13th once upon a time was actually a day especially for love and family, as Freya was the goddess of those things.
Also, 13 = 4 in numerology, which is truly my absolute favourite number. I wonder how many people stop and think about their favourite numbers – ever wonder why people like some numbers and not others?
Perhaps a good topic of conversation to bring up next time you are hanging out with family and friends – of course with the media's offline for a while! Enjoy your spring breaks coming up everyone with kids who are kids!
Rinse and repeat as often as needed.
We have some news from the world of WordPress for you today as well as some great plugins.
News this week:
Quick happy fun thing to start us off today: HAPPY BELATED PI DAY EVERYONE!! – And here's a fun article giving a great explanation on what Pi Day is!
WordPress Vulnerability Report – march 16, 2022 – There are only 5 plugins to be attended to this week, and of those only 1 is critical: Library File Manager. The other 4 should be deactivated until a patch can come through as well, although definitely want to deactivate Library File Manager first and foremost if you are currently using it.
Hundreds of GoDaddy-hosted sites backdoored in a single day – This is an interesting one; Internet security analysts have spotted a spike in backdoor infections on WordPress websites hosted on GoDaddy's Managed WordPress service, all featuring an identical backdoor payload. more specifically, the backdoor infecting all sites is a 2015 Google search SEO-poisoning tool implanted on wp-config.php. What this does, is it fetches spam link templates from the C2 that are used to inject malicious pages into the search results. Be aware of these kinds of things and try to keep more recent things installed in your site.
SolarWinds warns of attacks targeting Web Help Desk instances – They are referring to Web Help Desk (WHD), a program that is internet-exposed and is a ticketing and IT inventory management software designed to help customers automate ticketing and IT asset management tasks. The current recommendation is to remove it from your public (internet facing) infrastructure until they know more.
Gutenberg Contributors explore expanding background image block support and refining UI for background tools – The reason this is news is because currently background tools in Gutenberg are limited to the Cover Block; Contributors are now working on expanding the support so that any block can opt into it. Currently it's possible to add video backgrounds and cover overlays – which just cover the block itself. The goal is to make it so that it can be expanded in order to extend to other blocks rather than just being stuck on the one single block it is currently able to do.
DigitalOcean Acquires CSS-Tricks – For those who use the site CSS-Tricks, it is a good thing to know that the site DigitalOne has acquired it. They don't seem to have any plans on changing it up much, the goal of the sell and buy here was for the previous owner to CSS-Tricks to pass it onto someone with more 'human muscle' as he puts it to get behind the wheel of the site. He said he just didn't feel that he was giving CSS-Tricks enough energy, and the hope is that DigitalOcean will be that extra 'human muscle'.
GiveWP launches standalone donation form block for Stripe – This is a plugin that has released a stand along block where users can accept donations almost instantly. WP Tavern does a really decent look through on the plugin and talks about its pro's and con's. I believe this could be useful for those out there using blocks to build sites!
WordPress.org to launch pattern creator to expand pattern directory – Patterns' transformative effect on page building in the block editor has made the feature important enough to earn its own directory as of July 2021. For the past 9 months, it has been limited to a small, curated selection of patterns from designers in the community, though contributors are looking to add to this with public pattern submissions! Very exciting!
Gutenberg 12.8 launches the web fonts API, improves group nesting, and adds keyboard shortcut for links – I think this will be very useful for Gutenberg users! I know for myself I use a lot of keyboard shortcuts these days; I like the idea of being able to use web fonts as well. Definitely going to be an exciting update coming round the corner, I would love to hear back from our listeners who use Gutenberg regularly, let me know how the updates are working out!
The extras – for even more extra news, check out our Facebook, or Twitter page!
This is the extra news stuff that someone out there might find interesting. To read more, you can head on over to the show notes or newsletter and check it out! If you find something to add for next show, send me a link at amber@wppro.ca
Android trojan persists on the Google Play Store since January – This is a great article to go through if you find that your phone is acting up a little lately. Remember to update properly and don't just go for free stuff – paying 2-3 bucks for something is generally worth it for this reason.
Microsoft Defender tags Office updates as ransomware activity – On Wednesday (March 16) techs all over were flooded with Office updates being tagged as malicious alerts pointing to ransomware behaviour – and this led to a downpour of ransomware alerts. They have since updated the cloud logic to prevent future alerts from showing up and remove the previous false positives. The worry is that this may have been intentional, or it may have been an accident. They are still looking into this.
What is a Web3 Browser, and what does it do? – For those out there who don't know what Web3 is, you're not alone!! Firstly, a regular browser is essentially a window into the internet. This means you only have to store a minimum amount of data and do minimal processing on your computer to access websites and apps. The Web3 browser goes beyond that, creating a sort of hollow shell, where all the tools you need to do what you want to do are brought into this shell of yours from a decentralized network. Still not understanding? No worries, the article goes into super depth for you to help you get it. Check it out!
Your smart devices are spying on you – here's how to limit the privacy damage – This is the kind of thing I find I am being asked about a lot these days by people I know; a lot of people seem to think that if you have a basic understanding of CSS and HTML and WordPress, than you know everything there is to know about everything tech related! While very flattering, I absolutely don't, and I'll bet many of you finding yourself in the same situation are feeling the same way. So I bring you – basic tech info to pass onto the people who think you know everything (like your kids before teen years)!
Most important skill for enterprise architects may surprise you: Communication. – This probably does not come as a surprise to many of our listeners – though it does to many people who are new to the working life. One of the things that DOES tend to surprise many, is the fact that most IT techs main job is to essentially explain the same thing in a thousand different ways. That does seem to be the largest part of any tech job really – being able to find the right combination of words to get the meaning across to a variety of people.
Mozilla Firefox removes Russian search providers over misinformation concerns – I heard about this earlier this week – and I gotta say I am a little disappointed in these guys. I was under the impression that Firefox was all about 'free speech', the whole 'I may not agree with what you have to say but I will fight to the death your right to say it' kind of thing. Just like back in the 90's, where if you wanted to find out the truth about what you read in general, you would need to go and do some proper research – I personally think that allowing people to have to question everything they see online would be a good idea – it would cause people to become problem solvers again. Misinformation has been around since the dawn of information – that's why we have our problem solving skills in my opinion. That's just me though…
How to hide your embarrassing images and videos in Google Photos – Always a good idea to know how to hide ANYthing embarrassing in my opinion. This article goes through and tells you how to hide the things you don't want seen step by step.
There's a tiny star spraying antimatter all over the Milky Way – should we be worried? – Scientists don't seem to think so, though they are learning a lot by watching this 10 foot across area as this one star acts like a hose for anti-matter.
How an AI brain with only one neuron could surpass humans – I love me some good AI stuff! I like following this kind of information, not because it is directly linked to my chosen profession – but because it is directly linked to my life in the long term. Knowing what is happening in the tech world is always worth knowing – also, it's just really cool! Very good article, worth a read!
One last fun thing: 'Dear Microsoft, putting ads in the Windows 11 File Explorer is a very dumb idea' – Really and truly, I whole heartedly agree with this. This is a great article that is worth reading, plus as always, there is lovely humor added in to make it fun! I would love to hear back from any of our listeners who use Windows 11, let me know what you think about it so far!
The hall of shame via Automattic:
transparency.automattic.com/tag/hall-of-shame/
Matt's Famous Quotes
https://www.idrlabs.com/quotes/matt-mullenweg.php
Support the show
This Show will not work without you, the producers as it is a Value for Value model, meaning if you're getting any value out of it then give some value back and help the show out.
Start by subscribing to the newsletter for additional information and get out there round them up and rope them all in, belly up to the bar and enjoy. Spread the word about WP Plugins A to Z and catch it live every Thursday at noon PST on our YouTube Channel.
Show Producers
We'd like to acknowledge all the producers who have supported the show in the various ways over the last week.
This weeks show Art Work comes from:
Greg's Graphics (Greg Holdsworth) — https://gregsgraphics.com
To Submit Artwork go here https://wppluginsatoz.com/artwork/
Check out all the art work at https://wppluginsatoz.com/show-art-submitted/
This week's Executive Producer/'s are:
Nobody this week, maybe next week!
A big thank you to all the Producers who came in under $50 and to those who have set up weekly subscriptions they will remain anonymous and I thank you very much.
All these small subscriptions really help the show out.
A big thank you to those who have hired me because of the Podcast, thank you that is as good as donating to the show.
You can Support the Show by:
Donating money to help the show Donations of $50 and over are credited with an Executive Producer Credit in the Show Notes, and their note is read out on the show.
Submitting art work at the WP Plugins Art generator,
To Submit Artwork go here https://wppluginsatoz.com/artwork/
Submit articles news and information
Submit plugin suggestions for reviews
You can also create a monthly donation at Patreon
Or something I may not have thought of…
If you would like to send something to WP Plugins A to Z you can send to the following address:
WP Plugins A to Z
C/O John Overall
20-754 E Fairview Rd.
Victoria, BC V9A 5T9
Canada
Off we go into the meat and potatoes, Into the depths of plugin depravity…..
ClassicPress Options
ClassicPress is growing really well, but we just don't have the time to add reviews on ClassicPress myself. We are always open to reviews sent in by listeners, though unless there is a review sent into us on ClassicPress, we am not going to do more than mention that ClassicPress is a thing. Here are some resources, we hope some listeners out there find this information useful!
One thing we are looking forward to in the ClassicPress World is the expansion of the number of ClassicPress specific plugins and their own repository. There are a few plugins specifically for ClassicPress and all plugins for WordPress 4.9.9 work well on it. We do believe it has a future, we just don't have the time to help them in getting it out there right now.
ClassicPress News:
No new updates this week.
Find out more about ClassicPress 1.4.0 rc2 https://forums.classicpress.net/t/classicpress-1-4-0-rc2-release-notes/3785?fbclid=IwAR3wGK5IW8ssJ-XC4k7IiZMBtSjUTVN2pexk6ATCRvuMN-Fn-McOy-XJJv8
For some up to date news on ClassicPress check out the ClassicPress Blog.
ClassicPress Resources:
"Must Have" Plugins List
https://forums.classicpress.net/t/must-have-plugins-list/1163
You can check out the ClassicPress repository here https://directory.classicpress.net/plugins They now have 84 plugins (and counting!) available.
WordPress Plugins
Are you looking for some great newly released plugins? Check out this link:
https://wordpress.org/plugins/browse/new/
——————————–
John's Plugin
(Simply) Guest Author Name
https://wordpress.org/plugins/guest-author-name/

The Lowdown:
Quickly and easily add a guest author to a post and link to the authors blog Display guest author name in posts, Link author avatar, Quick Edit.
Create a post and override the author name with one or more names or text. You can also create a link for the author name field, add a description and an email address for the aravatar.
Rating 4 Dragons
——————————–
Amber's Plugin
Loco Translate
https://wordpress.org/plugins/loco-translate

The Lowdown:
At first I was super excited for this plugin because I thought it would translate foreign plugins into English for both myself and my site – but it turns out its the other way around – which is just as cool!
You can take a plugin or theme and translate it into a foreign language – if you want to translate it into your own language it takes a little effort of searching out every single string of information and translating it one by one to get it into your own language.
This plugin provides in-browser editing of WordPress translation files and integration with automatic translation services is the official way to put it.
Very cool! I can see the use of this for people who design plugins, or who add things to plugins and need it to match the language that the plugin was written in!
Totally free, worth a check!
Rating 5 Dragons
——————————–
John's Plugin
Email Before Download
https://wordpress.org/plugins/email-before-download/

The Lowdown:
Email Before Download (EBD) presents your users with a form where they submit information, like their name and email address, prior to receiving a download. This plugin integrates with the popular 'Contact Form 7' and 'WordPress Download Monitor' plugins, allowing you to create any form you like and manage/monitor your file downloads. You can also EXPORT a list of users that have downloaded files from the plug-in's settings page. Prior to installing 'Email Before Download', please confirm each of the dependent plugins is already installed and working independently.
Rating 4 Dragons
——————————–
Amber's Plugin
Smart Slider 3
https://wordpress.org/plugins/smart-slider-3/

The Lowdown:
I was searching up gallery plugins for a client, and decided to try this out – turns out that although this is a slider, it is a pretty awesome slider!
If you are looking for a slider for videos or images this would be a great bet! They have templates available in the free version, although they don't have the showcasing option or the carousal option in the free version. You need to go Pro for those options.
Though for what is available in the free version, I think that this would be a great option! You can set the height and length of the slider, and you can add videos and images together. The slider looks great, and I really like how easy it is to set it up.
Worth checking out!
Rating 4 Dragons
——————————–
John's Plugin
Apocalypse Meow
https://wordpress.org/plugins/apocalypse-meow/

The Lowdown:
Apocalypse Meow's main focus is addressing WordPress security issues related to user accounts and logins. This includes things like:
Brute-force login-in protection;
Customizable password strength requirements;
XML-RPC access controls;
Account access alerts;
Searchable access logs (including failed login attempts and temporary bans);
User enumeration prevention;
Registration SPAM protection;
Miscellaneous Core and template options to make targeted hacks more difficult;
Rating 4 Dragons
——————————–
Amber's Plugin
Slider, Gallery, and Carousel by MetaSlider – Responsive WordPress Plugin
https://wordpress.org/plugins/ml-slider/

The Lowdown:
During my search for Gallery plugins, I came across this plugin.
At first I didn't think it was overly great – then I noticed a bunch of personalization options for your sliders that I simply hadn't noticed at first. This one is alright, and it seems popular.
There is a decent option in the free version for personalization, though they keep most of the options for making the slider how you want for their pro version. Which kind of makes sense.
You use a shortcode in your page or post with this, and it shows up nicely, behaves well with other plugins, and is a decent all around plugin.
Rating 4 Dragons
——————————–
Random links for plugins
WordPress plugins crafted from love and experience
https://codeat.co/
Listener Feedback / Audio Clips
Feel free to send in your thoughts to us – The Good, The Bad, The Ugly – we'll take them all!
Listener Questions
We have some questions from our listeners for this week!
Are there any rules of thumb for choosing a domain name?
How do I know the best place to register my domain?
What is the best length of time to register it for?
How do I decide what domain endings to register? i.e. .com.ca .org .ed
Be sure to send in your own questions, and join the conversation!! Remember, there's no such thing as a stupid question!
Lifetime Single Domain License with Interactive Geo Maps, Valued at $49.99!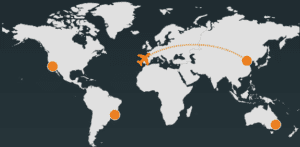 Interactive Geo Maps allows you to create powerful interactive vector maps! There are over 300 maps available in the free version alone, and many options for personalizing the look and feel of your maps!
The Pro version offers tons of advanced features to take your maps to the next level, as well as the ability to personalize your pins as well as the ability to create 'lines', connecting the various pins together to show the path taken. There is so much more you can do in the pro version to really make the maps reflect you, your business, and get what you want out of this plugin!
Get 100% discount in a single site lifetime license for Interactive Geo Maps – Yes! You'll get one license for free, forever, no renewals!
Once you win the contest, you will get a coupon code provided – this coupon is limited to 1 redemption only, for the winner alone, and once you upload it to your site, that is the site it will work on for you.
If you want to go and have a look at what is available and get a better idea on this than go and check out their site www.interactivegeomaps.com to see what is available!
You can enter the contest from March 10, 2022 until April 6, 2022 with the winner being announced on the show on April 7!
Let your friends know about the giveaway!
Remember to share this contest with friends to earn extra entries to the contest.
For all developers who would like to support the show. You can donate a premium license to be used in a future contest please go toWPPluginsAtoZ.com/PluginContest
The plugins we covered were:
John's Plugins: (Simply) Guest Author Name – 4, Email Before Download – 4, Apocalypse Meow – 4
Amber's Plugins: Loco Translate – 5, Smart Slider 3 – 4, Slider, Gallery, and Carousel by MetaSlider – Responsive WordPress Plugin – 4
Matt's Famous Quotes
https://www.idrlabs.com/quotes/matt-mullenweg.php
Reminders / Commercial / Promotions:
Next Week:
No meetup planned at the moment but you can keep tabs on this at https://wppluginsatoz.com/meetup
Would you like to be on an interview show? Simply connect at https://wppluginsatoz.com/interview
If you have suggestions on plugins you would like to have reviewed please submit them on the website at https://wppluginsatoz.com/submit-plugin-review/
Q & A Time with Amber ——– Catch this info on our YouTube Channel
If you have questions you would like to have asked on the show, send them in to me at Amber@WPPro.ca and we will answer to the best of our ability!
What do you look for when searching for a good page builder?
What do you look for when testing out Themes to see if they are good or not?
What do you look for when doing a Security Review?
Closing out this Episode
Just some reminders:
Be sure and subscribe to our Newsletter.
You can support the show at wppluginsatoz.com/donate
All the show notes can be found at: WPPluginsAtoZ.com
Subscribe and review the show at:
Stitcher Radio, Google Play and in the iTunes Store
Follow the show on Twitter @wppluginsatoz
Join Us on Our Facebook Page
Subscribe and Check out our Training Videos, Screencasts and Watch us Live on YouTube every Thursday at Noon PDT
How to Contact Us:
John can be contacted at:
Amber can be contacted at:
https://www.johnoverall.com/wp-content/uploads/2022/03/Episode-552-show.jpg
1500
1500
Amber
https://www.johnoverall.com/wp-content/uploads/2017/10/John-Overall-Logo-PNG-to-go-on-GREEN-Horizontal.png
Amber
2022-03-17 19:26:49
2022-12-05 19:52:26
The Colours of Wordpress Plugins