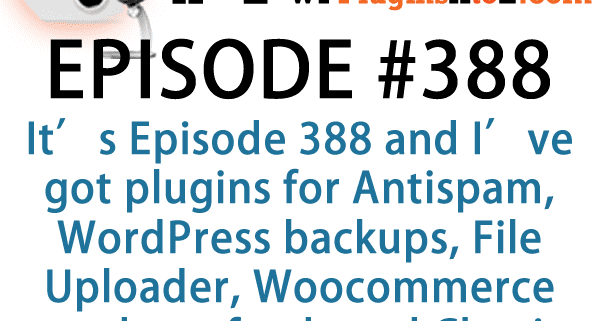 Podcast: Play in new window | Download | Embed
Subscribe: Google Podcasts | RSS
It's Episode 388 and I've got plugins for Spam prevention, WordPress backups, File Uploader, WooCommerce products feeds and Classic Press Options. It's all coming up on WordPress Plugins A-Z!
All the show notes can be found at: WPPluginsAtoZ.com
Make sure you subscribe and review the show at:
Stitcher Radio, Google Play and in the iTunes Store.
Subscribe and Check out our Training Videos, Screencasts and extra shows. You can also watch the show Live on YouTube every Thursday at Noon PST.
Follow the show on Twitter @wppluginsatoz
Join Us on Our Facebook Page
Subscribe to our Newsletter
It's the holiday season and a time for giving thanks, remember those in need during this time.
Look for a new segment near the end of the show dedicated to ClassicPress. You can find out more at CPPlugin.com
With that lets dive right into the meat and potatoes. Today I have 4 great plugins for you.
To start off I have a couple plugins that I have yet to use but thought you might want to know they exist. Keep in mind the ratings are based off the descriptions on their site and using their demo if available.
sent in by C Shakhawat Sultan
Freemium Plugin $89.99/yr
WooCommerce Product Feed Manager
https://rextheme.com/
https://rextheme.com/best-woocommerce-product-feed/
What they have to say:
Increase your WooCommerce store sales potential by easily generating product feed and uploading your products in the major merchant shops such as Google Merchant Center, Facebook Dynamic Ads, Amazon, etc.
This plugin is specialized in generating product feed that you can directly upload on other major merchant platforms with no extra hassle. Which means, with a few clicks you can get all your product details ready to be uploaded into another platform, without having to manually input data.
It allows you to choose specific products you want details for, with any common features you suggest. This plugin also allows dynamic attributes, product category mapping and supports Yith brand attributes.
Compared to other such plugins, this plugin has a simpler and more user-friendly interface. A great plugin if you require product feed generation on a regular basis.
Rating 4 Dragons
Submitted by Akshat Choudhary
Premium Plugin $7 to $99 a month
BlogVault Backup Service
What they say:
BlogVault is the most reliable WordPress backup, staging & migration solution and is trusted by over 300,000 websites.
Besides providing Daily Automatic Backups, it offers a variety of other features like taking On-Demand Backups whenever you need, also Scheduling Backups as per your convenience. For large websites, BlogVault offers Incremental Backup facility that ensures nothing is missed. And for WooCommerce sites, BlogVault offers a Real-Time Backup feature that stores the most up-to-date backups making sure users don't lose a single order.
Apart from all these, BlogVault also offers you option to upload backups to Amazon S3, or Dropbox or even download it on the local computer.
With BlogVault, you can access up to 365 Days Backup and choose which one you want to restore with BlogVault's One-Click Auto Recovery feature. BlogVault is the fastest website recovery tool that gets your site up and running in no time.
BlogVault comes with a completely independent dashboard. This means if your website goes down and your WordPress dashboard becomes inaccessible, you can still utilize your backups and restore them from the independent BlogVault dashboard.
BlogVault power seamless Migrations for popular web hosts including WPEngine, Savvii, FlyWheel, Pantheon, LiquidWeb, Cloudways and many more.
The backup plugin also comes with a free built-in Staging and Merging feature that enables users to test changes before pushing them on the live website. BlogVault also provides White-Labeling and Client Reporting, two very useful features for agencies and developers. Moreover, with BlogVault's Clients and Team Members Management features you can choose to add or delete users, change their roles and even password.
The latest addition to BlogVault Backup Service are the Uptime Monitoring and Performance Check features. The Uptime Monitor informs users if their website is down. And the Performance Check offers users detailed information regarding their website speed.
Rating 4 Dragons
This show is brought to you by:
John Overall.com WordPress & Web Services
Finding quality WordPress Hosting and support can be a challenge, well you can drop that stress by contacting JohnOverall.com web services. I can help you eliminate your WordPress stress. Solving your WordPress Emergency issues or doing the more day to day items such as finding that perfect plugin, helping you move to a new hosting provider or even providing Quality WordPress hosting.
With 20yrs Exp. on-line and over 8 years dedicated to WordPress, JohnOverall.com provides all your web service needs from hosting to WordPress development, repairs and wpmalwareremoval.com/.
Visit my website JohnOverall.com, Call 818-850-7729 or send an email to john@wppro.ca
Contest Info:
Contests Powered by Simple Giveaways who kindly provided us with the premium version for our contests.
Contests are back with a vengeance! We have 4 running for the Month of December where we are giving away several things.
Visit http://WPPluginsAtoZ.com/contests for more info.
The next plugin I have for you is:
Ajax Upload for Gravity Forms
https://wordpress.org/plugins/ajax-upload-for-gravity-forms/

Last Updated:
01 January 1970
The lowdown:
If you use Gravity Forms and allow file uploads with it this is a great little plugin for you. What it does is allow the upload of the files using Ajax so the files can be uploaded and ready when the form is submitted.
Rating 5 Dragons
Listener Feedback / Audio Clips
I like listener feedback. You can leave feedback via our contact page, Speakpipe or email us directly.
Some feedback on my recent changes to the show
Listener Questions
——————————–
Show Donors
This Show is a value for value model meaning if you get any value out of it please give some value back and in that vein we would like to acknowledge those that have supported the show in the past week. All donations $50 and over their note is read out and published here.
For all those who come in below $50 they will remain anonymous and we thank you very much.
This week's Donor(s) are:
A big thank you to those who have hired me because of the podcast. Thank you. That is as good as donating to the show.
And a big thank you to our donors who came in under $50 and to those who have set up weekly subscriptions.
All these small subscriptions really help the show out.
Here are ways you can support the show:
There is a new form for donations here https://wppluginsatoz.com/donate-2/
Support the show with a weekly $2.50 subscription by going http://wppluginsatoz.com/donate/
This show is listener supported and we can use more than just money to help the show grow.
Visit WPPluginsAtoZ.com to learn how you can support the show in other ways.
You can also create a monthly donation at Patreon
Remember to support the show at WPPluginsAtoZ.com.
The last plugin I have here today is:
Menu Icons by ThemeIsle
https://wordpress.org/plugins/menu-icons/

Released:
20 February 2014
Last Updated:
11 September 2023
The Lowdown:
If you have a site and you would like to add those fancy icons to the menu items this is a great plugin for you. Once activated all you need to do choose the icons you want and apply them.
Rating 4 Dragons
ClassicPress Options
Adding a new segment just for Classic Press. Since the release of Gutenberg, ClassicPress has garnered a lot of attention.
I will be releasing a short screen cast about the conversion of a site to ClassicPress and it looked to go very well fast and easy.
This weeks ClassicPress plugin(s)
I will bring one or more plugins per week here as I can test them.
This week we have one of my staples on all websites.
Antispam Bee
https://wordpress.org/plugins/antispam-bee/

Last Updated:
21 September 2023
The Lowdown:
This has been the main staple for keeping spam off my websites a great plugin and I am glad it is working with ClassicPress.
Rating 5 Dragons
Closing out this Episode The Plugins I covered where:
John's Plugins: WooCommerce Product Feed Manage – 4, BlogVault Backup Service – 4, Ajax Upload for Gravity Forms- 5, Menu Icons by ThemeIsle – 4, Antispam Bee – 5
End of show thought, I have been blocked at WordPress.org because of reviews I had been leaving on plugins over there the past year and a half or so. Check out the article at WP Plugins A to Z
Reminders / Commercial / Promotions:
For my thoughts on the launch of Gutenberg at the beginning of December 2018 listen to the show.
The WordPress MeetUps that are coming up: the next WordPress Meetup in Victoria will be January 22, 2019 and will be broadcast Live on YouTube. Check them out at https://wppluginsatoz.com/meetup John Overall will be presenting on in January about all that is going on with WordPress and the implementation of the Gutenberg editor in WordPress 5.0
Be sure to check out and subscribe to the YouTube Channel for WP Plugins A to Z where you find training Videos, Screencasts and of course the live show every week.
Note to developers who would like to support the show. If you would like to offer up a premium license to give away please go to WPPluginsAtoZ.com/PluginContest
WordPress News and other interesting WordPress related posts:
For news and information that is related to WordPress be sure to subscribe to our Newsletter.
Just some reminders:
Remember to support the show at wppluginsatoz.com/donate
All the show notes can be found at: WPPluginsAtoZ.com
Make sure you subscribe and review the show at:
Stitcher Radio, Google Play and in the iTunes Store
Follow the show on Twitter @wppluginsatoz
Join us on our Facebook Page
Subscribe and check out our Training Videos, Screencasts and watch us Live on YouTube every Thursday at Noon PST
How to Contact Me:
John can be contacted at:
https://www.johnoverall.com/wp-content/uploads/2018/12/featured-388.fw_.png
600
600
Ahkonsu
https://www.johnoverall.com/wp-content/uploads/2017/10/John-Overall-Logo-PNG-to-go-on-GREEN-Horizontal.png
Ahkonsu
2018-12-30 14:24:58
2018-12-31 14:31:10
WooCommerce Product Feed Manager, BlogVault Backup Service, Ajax Upload for Gravity Forms, Menu Icons by ThemeIsle, and Antispam Bee in Episode 388