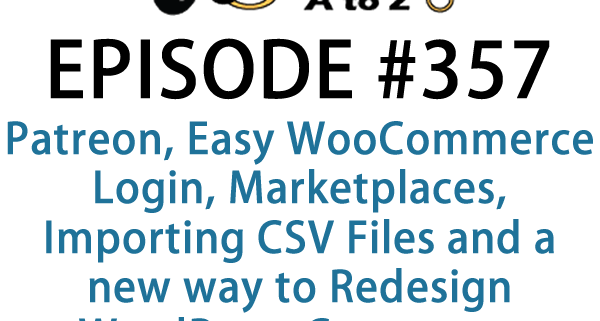 https://www.johnoverall.com/wp-content/uploads/2018/05/Episode357-WPPlugins-A-to-Z.mp3
Podcast: Play in new window | Download | Embed
Subscribe: Google Podcasts | RSS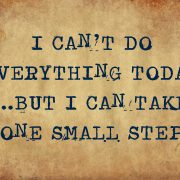 It's Episode 357 and we've got plugins for Patreon, Easy WooCommerce Login, Marketplaces, Importing CSV Files and a new way to Redesign WordPress Comments. It's all coming up on WordPress Plugins A-Z!
All the show notes can be found at: WPPluginsAtoZ.com
Make sure you subscribe and review the show at:
Stitcher Radio, Google Play and in the iTunes Store.
Check out our Training Videos, Screencasts and Watch Us Live on YouTube every Monday morning at 10amPST
Follow the show on Twitter @wppluginsatoz
Subscribe to our Newsletter
Today we are reviewing our usual allotment of six great plugins.
John
And first up I have
Sent in by Ozgur Zeren
Patron Plugin Pro 36 euros
https://codebard.com/patron-plugin-pro

Last Updated:
01 January 1970
The Lowdown:
If you are a big patreono user this plug in may be worth the cost to you. It allows you to use the patreon API to lock content on your site in multiple ways and to showcase that content to your patreon users and encourage more users to use patreon.
Rating 4 dragons
Marcus
WooCommerce Login/Signup Popup
https://wordpress.org/plugins/easy-login-woocommerce/

Last Updated:
14 November 2023
Easy Login WooCommerce is a simple & light weight plugin which allow users to login/signup anywhere from the site with the simple pop up without refreshing page.
FEATURES AND OPTIONS:
Fully Ajaxed.
Login, Register, Lost Password form.
Login from anywere on the page using shortcode.
Fully Customizable.
Rating: 4 out of 5
This show is brought to you by:
John Overall.com WordPress & Web Services
Finding quality WordPress Hosting and support can be a challenge, well you can drop that stress by contacting JohnOverall.com web services. I can help you eliminate your WordPress stress. Solving your WordPress Emergency issues or doing the more day to day items such as finding that perfect plugin, helping you move to a new hosting provider or even provinding Quality WordPress hosting.
With 20yrs. Exp on-line and over 8 years dedicated to WordPress JohnOverall.com Provides all your web service needs from hosting to WordPress development, repairs and https://wpmalwareremoval.com/.
Visit my website JohnOverall.com, Call 818-850-7729 or send an email to john@wppro.ca
Contest win a Premium Plugin License For:
We have a contest running and we are giving away a premium license from https://bracketspace.com/ where we are giving away a bundle pack of extensions for the Notification plugins bundle pack of extensions for the Notification plugin visit http://WPPluginsAtoZ.com/contests for more info or enter here https://wppluginsatoz.com/giveaway/a-bundle-pack-of-extensions-for-the-notification-plugin/
You can also get a discount off the plugins with a 25% off coupon code for all Notification extensions. Use the code "ILOVEWPAZ" until the end of May 2018 get the core plugin here https://wordpress.org/plugins/notification/
Contests powered by the Simple Giveaways Plugin https://en-ca.wordpress.org/plugins/giveasap/
Our next couple plugins for you are
John
Sent in by Ankita Lai
WC-Marketplace
The Lowdown:
WC-Marketplace helps in building an eCommerce marketplace from scratch or converting an existing WooCommerce store into a marketplace. This WordPress plugin allows vendors to create individual stores, manage their inventories and shipping while you can earn commission on their sales. WC Marketplace makes your eCommerce a hassle-free experience. We evolve with the latest eCommerce marketplace trends and offers a bounty of add-ons which will grow with time. WC Marketplace works with most WooCommerce compatible theme.
Rating 4 Dragons
Listener Feedback / Audio Clips
We like listener feedback you can leave feedback via our contact page, Speakpipe or email us direct.
Show Donors
This Show is a Value for Value model meaning if you get any Value out of it please give some Value back and in that vein we would like to acknowledge those that have supported the show in the past week. All donations $50 and over are read out and their note is published here.
For all those who come in below $50 they will remain anonymous and we thank you very much.
This week's Donor/'s are:
And a big thank you to our donors who came in under $50 and to those who have set up weekly subscriptions.
All these small subscriptions really help the show out.
Here are ways you can support the show:
Support the show with a weekly $2.50 subscription by going http://wppluginsatoz.com/donate/
This show is listener supported and we can use more than just money to help the show grow.
Visit WPPluginsAtoZ.com to learn how you can support the show in other ways.
You can also create a monthly donation at Patreon
Remember to support the show at WPPluginsAtoZ.com.
Our last couple plugins today are:
John
Sent in by Clara Torson
Ultimate CSV Importer
https://wordpress.org/plugins/wp-ultimate-csv-importer/

Last Updated:
21 November 2023
The Lowdown:
Ultimate CSV Importer can help you import, update, schedule, and Export spreadsheet. We do have support for a number of third-party add-ons support. You can refer our documentation or talk to us via email at
support@smackcoders.com
.
Smart WP Ultimate CSV Importer Features
Import, Update & Schedule your CSV/XML file to upload into WordPress website
Import file from Desktop, FTP, External URL or Server
Simple drag & drop to relate CSV/XML fields with WP fields
Inline & Feature image import from WordPress media & external URL
Multilingual Import with WPML & qTranslate X
Import Events Manager data in CSV/XML with ease
Push data from anywhere into WordPress with REST Web Service support
Normal Mapping
WP Ultimate CSV Importer auto map your CSV fields. You can also provide the WP Field values instantly by choosing the Header Manipulation from the drop down. CSV Importer lets you to define values within the curly braces using the static field. You can also merge multi column values and can perform arithmetic calculations with the formula field.
Advanced Mapping
Advanced mapping section lets you to drag & drop the CSV fields to the corresponding WP fields. It provides complete working experience as that of, when you work on WooCommerce, MarketPress and WP eCommerce. You can simply drag & drop the fields in required WP Fields. Here you can preview the mapped CSV fields.
Documentation – https://www.smackcoders.com/documentation/ultimate-csv-importer-pro/how-to-import-csv
Sample CSV file – https://www.smackcoders.com/blog/wordpress-ultimate-csv-importer-csv-sample-files-and-updates.html?utm_source=plugin&utm_campaign=csv_importer_free&utm_medium=wordpress
Rating 4 Dragons
Marcus
WP Comment Designer Lite
https://wordpress.org/plugins/wp-comment-designer-lite/

Last Updated:
01 January 1970
WP Comment Designer Lite is a Free WordPress Plugin thats helps change the layout of the WordPress comments and comment form. The form fields are rearrangeable and customizable.
This is a fully responsive and RTL compatible plugin. This Plugin makes your comment section more fun and engaging with its advanced features such as comment pagination, basic comment rating options and ability to hide individual comment thread . All in all, It is an easy to use plugin that works on replacing the plain WordPress Comments Section with a more attractive and interactive one.
FEATURES
Beautifully designed 3 different templates displaying the comments and comment form
Show/Hide comment replies
Show/Hide total comment number
Basic comment like/dislike option
Rearrageable comment form fields
Comment Pagination
Rating: 4 out of 5
Closing out this Episode The Plugins we covered where:
John's Plugins: Patron Plugin – 4, WC-Marketplace – 4, Ultimate CSV Importer – 4
Marcus' Plugins: WooCommerce Login/Signup Popup – 4, Woocommerce Support System – 4, WP Comment Designer Lite – 4
Reminders / Commercial / Promotions:
Be sure to check out the YouTube Screencast that goes up later and watch the add on part that has john doing a first impression of one of Marcus's Plugin reviews from this show.
Note to developers who would like to support the show. If you would like to offer up a premium license to give away please go to WPPluginsAtoZ.com/PluginContest
We now have training videos up and on-line part of the WP Plugins network you can find them here at http://wpsupport.ca/category/public-wordpress-training-videos/ or here http://wpsupport.ca/category/members-wordpress-training-videos/ new videos being done weekly
.
WordPress News and other interesting WordPress related posts:
For news and information that is related to WordPress be sure and subscribe to our Newsletter.
Just some reminders:
Remember to support the show at wppluginsatoz.com/donate
All the show notes can be found at: WPPluginsAtoZ.com
Make sure you subscribe and review the show at:
Stitcher Radio, Google Play and in the iTunes Store
Follow the show on Twitter @wppluginsatoz
Watch us Live, our Screencasts, Training Videos and Subscribe to us on YouTube
How to Contact Us:
John can be contacted at:
Marcus can be contacted at:
Marcus Couch can be contacted at his website at marcuscouch.com
Twitter @marcuscouch
and remember to follow the show on twitter @wppluginsatoz
https://www.johnoverall.com/wp-content/uploads/2018/05/featured-357.png
600
600
Ahkonsu
https://www.johnoverall.com/wp-content/uploads/2017/10/John-Overall-Logo-PNG-to-go-on-GREEN-Horizontal.png
Ahkonsu
2018-05-23 13:21:39
2018-05-23 13:21:39
WordPress Plugins A to Z Episode 357 Patreon, Easy WooCommerce Login