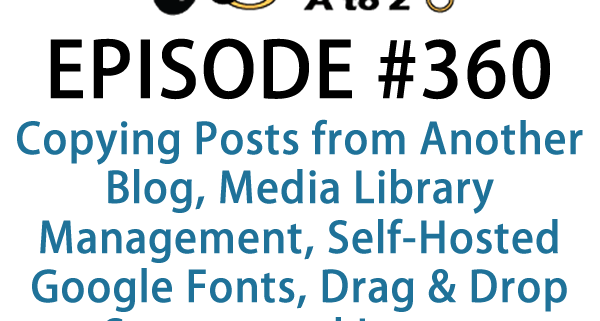 https://www.johnoverall.com/wp-content/uploads/2018/06/Episode360-WPPlugins-A-to-Z.mp3
Podcast: Play in new window | Download | Embed
Subscribe: Google Podcasts | RSS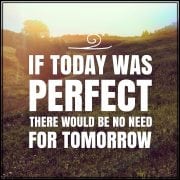 It's Episode 360 and we've got plugins for Copying Posts from Another Blog, Media Library Management, Self-Hosted Google Fonts, Drag & Drop Surveys and Instant Discounts for Newsletter Subscription. It's all coming up on WordPress Plugins A-Z!
All the show notes can be found at: WPPluginsAtoZ.com
Make sure you subscribe and review the show at:
Stitcher Radio, Google Play and in the iTunes Store.
Check out our Training Videos, Screencasts and Watch Us Live on YouTube every Monday morning at 10amPST
Follow the show on Twitter @wppluginsatoz
Subscribe to our Newsletter
With that lets dive right into the meat and potatoes **play sound***
Today we are reviewing our usual allotment of six great plugins.
John
Enhanced Media Library
https://wordpress.org/plugins/enhanced-media-library/

Released:
03 November 2013
Last Updated:
09 January 2022
The Lowdown:
If you have lots of images on your media library you may be inn need of a easy to categorize them. This plugin help you out by allowing you to categorize with tags, categories as well as any other taxonomy's other plugins might have created.
Once you have finished categorizing them you can then use short codes to display galleries and or playlists. set the order and more.
Rating 5 Dragons
Marcus
Copy Posts
https://wordpress.org/plugins/copy-posts/

iPressGo Copy Post allows you to duplicate posts from any WordPress blog with the REST API enabled, onto your own WordPress blog as a draft or published. In addition, create multiple 'Copy Jobs' to automatically schedule posts to be duplicated onto your blog.
How it Works:
1) Insert any Blog Link (Home Page or Sub Category) that uses WordPress
2) Set a Start Time, Time Between Posts, Total Copy Limit, and Other Settings
3) Save your Copy Job.
With Copy Post you can syndicate content like a pro by creating multiple Copy Jobs for various blogs and/or content categories. Copy jobs run in the background until you stop them or delete them.
Create higher limits for breaking news and lower limits on filler content. Copy Post will copy the most recent post available according to the schedule and settings you configure.
Rating: 4 out of 5
This show is brought to you by:
John Overall.com WordPress & Web Services
Finding quality WordPress Hosting and support can be a challenge, well you can drop that stress by contacting JohnOverall.com web services. I can help you eliminate your WordPress stress. Solving your WordPress Emergency issues or doing the more day to day items such as finding that perfect plugin, helping you move to a new hosting provider or even provinding Quality WordPress hosting.
With 20yrs. Exp on-line and over 8 years dedicated to WordPress JohnOverall.com Provides all your web service needs from hosting to WordPress development, repairs and https://wpmalwareremoval.com/.
Visit my website JohnOverall.com, Call 818-850-7729 or send an email to john@wppro.ca
Our next couple plugins for you are
John
sent in by Dmitry Kurmanov
SurveyJS
https://wordpress.org/plugins/surveyjs/

Last Updated:
16 January 2023
The Lowdown:
Create your own surveys on your website with this plugin
Easy to use, drag & drop Survey Builder with myriad options. It is based on popular in JavaScript developer community SurveyJS Library and Builder (Editor).
Main features:
* It has 15 elements (questions and panels) from simple inputs like text and dropdown to Panel containers and dynamic matrix (table), that allows to build you complex forms.
* Multi pages support
* It is localized on many languages and supporting multi language surveys/forms (one survey for several languages).
* Control survey flow by setting visibility expression for pages, panels, questions and even individual items in checkboxes, radio groups and dropdowns.
* Fill data for checkboxes, radio groups and dropdowns from web services.
* Validate user inputs with several built-in validators.
* Show results in a read only survey.
* Several good-looking themes and much more
Premium version available
Rating 4 Dragons
Marcus
Self-Hosted Google Fonts
https://wordpress.org/plugins/selfhost-google-fonts/

Last Updated:
15 June 2018
An easy way to self-host all your Google Fonts for increased Privacy or to meet a law requirement Theme and plugin authors are often unwilling to offer a self-hosted method and it's quite laborious to download and upload each of the required font.
This plugin makes it all easy. It will scan all CSS on your site and automatically download and host on your server the necessary Google Web Fonts.
Rating: 5 out of 5
Listener Feedback / Audio Clips
We like listener feedback you can leave feedback via our contact page, Speakpipe or email us direct.
Hello.
Sorry if this has been mentioned before.
I listen fairly often. Many of your ratings are 4. There are a few 5's and very few 3's. Since most plugins are a 4 it really doesn't show me how valuable they are or how they compare to other 4 rated apps.
How about if you opened the 4's scale to 4.0, 4.2, 4.4, 4.6, 4.8, (5.0). I think most people don't want to use a plugin if it is 3 unless it's the only one or does the best job. But there is possibly a big difference between a 4.2 app and a 4.6 app. This detail is missing when both apps are a 4.
Chuck
Listen to the show for the full explanation of we we won't be doing this.
Show Donors
This Show is a Value for Value model meaning if you get any Value out of it please give some Value back and in that vein we would like to acknowledge those that have supported the show in the past week. All donations $50 and over are read out and their note is published here.
For all those who come in below $50 they will remain anonymous and we thank you very much.
This week's Donor/'s are:
And a big thank you to our donors who came in under $50 and to those who have set up weekly subscriptions.
All these small subscriptions really help the show out.
Here are ways you can support the show:
Support the show with a weekly $2.50 subscription by going http://wppluginsatoz.com/donate/
This show is listener supported and we can use more than just money to help the show grow.
Visit WPPluginsAtoZ.com to learn how you can support the show in other ways.
You can also create a monthly donation at Patreon
Remember to support the show at WPPluginsAtoZ.com.
Transition 3 Here to Final Plugins <<<<<<<<<<<<<<<<<<<
Our last couple plugins today are:
John
Media Library Categories
https://wordpress.org/plugins/wp-media-library-categories/

Released:
12 November 2013
Last Updated:
24 July 2023
The Lowdown:
This plugin help in a simpler way to add categories to your media library. It provides a little bit of what you might need.
Rating 3 Dragons
Marcus
Newsletter Discounts for WooCommerce
https://wordpress.org/plugins/newsletter-discounts-for-woocommerce/

Last Updated:
01 January 1970
Newsletter discounts for WooCommerce will help you increase your store conversions and make more sales by offering discounts for your visitors.
A beautiful popup form will welcome your visitors with an discount offer on your store. The offer will be activated immediately once they provide their names and their emails.
A special coupon code will be created for each visitor who chooses to activate the discount. The coupon code will be applied immediately on their cart.
Every email will be exported immediately to your MailChimp or Klaviyo account, with the first name and the last name of the subscriber, along with the coupon code that was created for them and the direct link to activate their special discount. This will help you make your email re-targeting way more efficient!
Ultimately of course. You can customize the amount and the type for the discounts (eg. percentage of fixed amount).
You can also customize the style for the newsletter form popup, and make it fit in with the general look of your store.
Rating: 5 out of 5
Closing out this Episode The Plugins we covered where:
John's Plugins: Enhanced Media Library – 5, SurveyJS – 4, Media Library Categories – 3
Marcus' Plugins: Copy Posts – 4, Self Hosted Google Fonts – 5, Newsletter Discounts for WooCommerce – 5
Reminders / Commercial / Promotions:
Be sure to check out the YouTube Screencast that goes up later and watch the add on part that has john doing a first impression of one of Marcus's Plugin reviews from this show.
Note to developers who would like to support the show. If you would like to offer up a premium license to give away please go to WPPluginsAtoZ.com/PluginContest
We now have training videos up and on-line part of the WP Plugins network you can find them here at http://wpsupport.ca/category/public-wordpress-training-videos/ or here http://wpsupport.ca/category/members-wordpress-training-videos/ new videos being done weekly
.
WordPress News and other interesting WordPress related posts:
For news and information that is related to WordPress be sure and subscribe to our Newsletter.
Just some reminders:
Remember to support the show at wppluginsatoz.com/donate
All the show notes can be found at: WPPluginsAtoZ.com
Make sure you subscribe and review the show at:
Stitcher Radio, Google Play and in the iTunes Store
Follow the show on Twitter @wppluginsatoz
Watch us Live, our Screencasts, Training Videos and Subscribe to us on YouTube
How to Contact Us:
John can be contacted at:
Marcus can be contacted at:
Marcus Couch can be contacted at his website at marcuscouch.com
Twitter @marcuscouch
and remember to follow the show on twitter @wppluginsatoz
https://www.johnoverall.com/wp-content/uploads/2018/06/featured-360.png
600
600
Ahkonsu
https://www.johnoverall.com/wp-content/uploads/2017/10/John-Overall-Logo-PNG-to-go-on-GREEN-Horizontal.png
Ahkonsu
2018-06-11 08:22:06
2018-06-11 08:22:06
WordPress Plugins A to Z Episode 360 Media Library Management, Self-Hosted Google Fonts