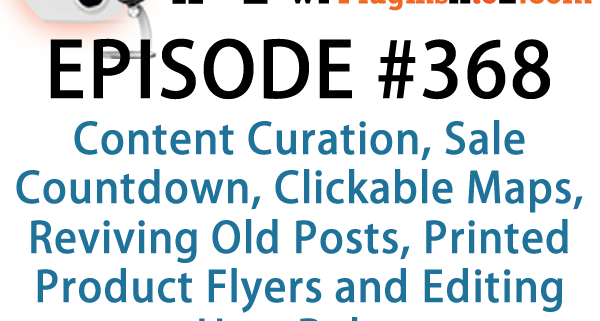 https://www.johnoverall.com/wp-content/uploads/2018/08/Episode368-WPPlugins-A-to-Z.mp3
Podcast: Play in new window | Download | Embed
Subscribe: Google Podcasts | RSS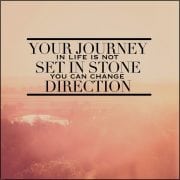 It's Episode 368 and we've got plugins for Content Curation, Sale Countdown, Clickable Maps, Reviving Old Posts, Printed Product Flyers and Editing User Roles. It's all coming up on WordPress Plugins A-Z!
All the show notes can be found at: WPPluginsAtoZ.com
Make sure you subscribe and review the show at:
Stitcher Radio, Google Play and in the iTunes Store.
Check out our Training Videos, Screencasts and Watch Us Live on YouTube the first Monday of every month at 10am PST
Follow the show on Twitter @wppluginsatoz
Subscribe to our Newsletter
Today we are reviewing our usual allotment of six great plugins.
John
Revisiting
Curation Suite
The Lowdown:
This plugin used to be one of my favourite plugins, it was a great tool for bringing in news into your website. I had been using it for a couple years. originally I had bought a license that was grandfathered into the system when they upped their prices. I have several plugins like that..
Now the plugin functioned great for a while but about 6 months ago I started having some issues so I contacted support and since they had always been great in the past i expected the same. Well not so much this time. Since it was a low priority I actually forgot I had put in a support ticket and when I had time to revisit the issue I realized it had been 3 months since I put in the ticket.. I contacted them again nothing after a few days. So I tried to contact them on Facebook and twitter. Still no luck. After a few days of multiple attempts to get a hold of their support I surrendered and well I have to pull what was once a 5 star rating and plummet them down to a 2.
The plugin no longer functions correctly I cannot install it on a new site and I cannot reach support and I tried..
Rating 2 dragons
Marcus
Interactive US Map (Premium)
https://www.wpmapplugins.com/interactive-us-map-wordpress-plugin.html
The interactive US map WordPress plugin gives you an easy way to install and customize a professional looking interactive US map with 50 clickable states plus DC, then insert the shortcode in any page or post to display the map on your website. It's $29 at Code Canyon. I had a website project that needed this, and the plugin went above and beyond. It looks amazing and functions well at any resolution. Watch the video on how it works at https://www.youtube.com/watch?v=sGpPV1YKsTo They also have world maps, various other country maps and even individual state maps with the clickable counties.
Main Features
One-time purchase, no annual or subscription fees.
Visual editor – Coding knowledge is NOT required.
Well organized interface, easy to use admin panel.
Use the shortcode as many times as you want in different pages to display the same map.
Create multiple maps and use them in different pages – up to 3 different maps.
Responsive and fully resizable.
Works perfectly on desktops along with smartphones.
SEO friendly > Small file size > Fast loading.
Rating: 5 out of 5
This show is brought to you by:
Finding quality WordPress Hosting and support can be a challenge, well you can drop that stress by contacting JohnOverall.com web services. I can help you eliminate your WordPress stress. Solving your WordPress Emergency issues or doing the more day to day items such as finding that perfect plugin, helping you move to a new hosting provider or even provinding Quality WordPress hosting.
With 20yrs. Exp on-line and over 8 years dedicated to WordPress JohnOverall.com Provides all your web service needs from hosting to WordPress development, repairs and https://wpmalwareremoval.com/.
Visit my website JohnOverall.com, Call 818-850-7729 or send an email to john@wppro.ca
***Winner Winner *** for the July contest for WP Nearby places license is Jermy ….
Contest win a Premium Plugin License For:
This month we are giving away a Premium License version of the WP Nearby Places plugin from https://wpnearbyplaces.com/ this plugin helps you create very useful Google maps for your site visitors, visit http://WPPluginsAtoZ.com/contests for more info.
Check out the interview with Albert Harlow from WP Nearby Places where we discuss the plugin a bit more in-depth, listen here.
You can also get a discount off the plugins with a 25% off coupon code for WP Nearby places. Use the code "FLASH"
Contests powered by the Simple Giveaways Plugin https://en-ca.wordpress.org/plugins/giveasap/ get the pro version here http://www.wpsimplegiveaways.com/.
Our next couple plugins for you are
John
Revive Old Posts – Auto Post to Social Media
https://wordpress.org/plugins/tweet-old-post/

Released:
07 December 2009
Last Updated:
08 November 2023
The Lowdown:
Does your site have a build up of content that is still relevant just a bit old? Well this plugin helps you get that content back ut into the wild for people to see and view. It let you cue up your posts to be scheduled and posts to Twitter and
Facebook
although with recent changes to
Facebook
somethings may not work as expected until the workarounds are sorted out. All in all a pretty great plugin.
Rating 4 Dragons
Marcus
Countdown WooCommerce Sale
https://wordpress.org/plugins/countdown-woocommerce-sale/
Video: https://youtu.be/1ntRy8sd134

Last Updated:
27 October 2023
This is a simple timer add-on to WooCommerce that counts down the time remaining in a sale. Once the timer reaches zero, the sale ends and the price is automatically adjusted to full price. This is actually something really cool that I was inspired to research based on the recent Amazon Prime Day. It does the exact same functionality. For retailers or developers, this also allows you the chance to run the "sale of the day" and switch the timer to multiple products. Discount amount, discount rate, date of sale finish can be displayed in the timer.
Rating: 5 out of 5
Listener Feedback / Audio Clips
We like listener feedback you can leave feedback via our contact page, Speakpipe or email us direct.
Show Donors
This Show is a Value for Value model meaning if you get any Value out of it please give some Value back and in that vein we would like to acknowledge those that have supported the show in the past week. All donations $50 and over are read out and their note is published here.
For all those who come in below $50 they will remain anonymous and we thank you very much.
This week's Donor/'s are:
July 9th
Jezweb Pty Ltd sent you $50.00 USD.
Note from Jezweb Pty Ltd:
This donation is on behalf of Jennings Print Group https://www.jenningsprint.com.au who provide print and signage services to businesses in Australia. It is a WordPress website created by Jezweb https://www.jezweb.com.au
July 17, 2018
Jezweb Pty Ltd sent you $50.00 USD.
Note from Jezweb Pty Ltd:
This donation is on behalf of Lakeside Air https://www.lakesideair.com.au who are a leading Daikin Air Conditioning installer in Newcastle Australia. It is a WordPress website created by Jezweb https://www.jezweb.com.au Thank you for continuing to review and discover new WordPress Plugins. Jez
And a big thank you to our donors who came in under $50 and to those who have set up weekly subscriptions.
All these small subscriptions really help the show out.
Here are ways you can support the show:
Support the show by going http://wppluginsatoz.com/donate/
This show is listener supported and we can use more than just money to help the show grow.
Visit WPPluginsAtoZ.com to learn how you can support the show in other ways.
You can also create a monthly donation at Patreon
Remember to support the show at WPPluginsAtoZ.com.
Our last couple plugins today are:
John
User Role Editor
https://wordpress.org/plugins/user-role-editor/

Last Updated:
24 October 2023
The Lowdown:
Do you need to adjust user roles on your site? Do you want an easy way to allow things such as specific widgets to show up only for certain user roles? This plugin is one you will want to investigate then. You can add new roles or adjust setting for other roles except the admin role.
This is a great plugin for limiting the access to specific areas of a site or in the case of a membership site with multiple roles and each seeing different things you can limit access to specific widgets per role and more check this plugin out.
Rating 4 Dragons
Marcus
Print Flyers Lite
https://wordpress.org/plugins/print-flyers-lite/

Last Updated:
16 January 2020
A useful addition for any WooCommerce-powered online store, Print Flyers Lite makes it easy for customers to print product literature straight from the product page via a button. A variety of options are available via the WordPress dashboard settings to control the appearance of the printed page. For example, you can change the size and position of the featured image, and you can choose from a selection of fonts. You can choose to show SKU or not; or stock status or not, etc. I tried it and the output was not as perfect as a pre-designed PDF, but it was a heck of a lot better than the user just printing the web page verbatim.
Rating: 4 out of 5
Closing out this Episode The Plugins we covered where:
John's Plugins: Curation Suite – 2, Revive Old Posts – Auto Post to Social Media – 4, User Role Editor – 4
Marcus' Plugins: Interactive US Map (Premium) – 5, Countdown WooCommerce Sale – 5, Print Flyers – 4
Reminders / Commercial / Promotions:
Check out the Victoria WordPress meetup group and that the sessions will be recorded.
Be sure to check out our YouTube Channel for screencasts, training videos and more.
Note to developers who would like to support the show. If you would like to offer up a premium license to give away please go to WPPluginsAtoZ.com/PluginContest.
WordPress News and other interesting WordPress related posts:
For news and information that is related to WordPress be sure and subscribe to our Newsletter.
Just some reminders:
Remember to support the show at wppluginsatoz.com/donate
All the show notes can be found at: WPPluginsAtoZ.com
Make sure you subscribe and review the show at:
Stitcher Radio, Google Play and in the iTunes Store
Follow the show on Twitter @wppluginsatoz
Watch us Live, our Screencasts, Training Videos and Subscribe to us on YouTube
How to Contact Us:
John can be contacted at:
Marcus can be contacted at:
Marcus Couch can be contacted at his website at marcuscouch.com
Twitter @marcuscouch
and remember to follow the show on twitter @wppluginsatoz
https://www.johnoverall.com/wp-content/uploads/2018/08/featured-368.png
600
600
Ahkonsu
https://www.johnoverall.com/wp-content/uploads/2017/10/John-Overall-Logo-PNG-to-go-on-GREEN-Horizontal.png
Ahkonsu
2018-08-06 17:15:55
2018-08-06 17:21:24
WordPress Plugins A to Z Episode 368 Content Curation, Sale Countdown