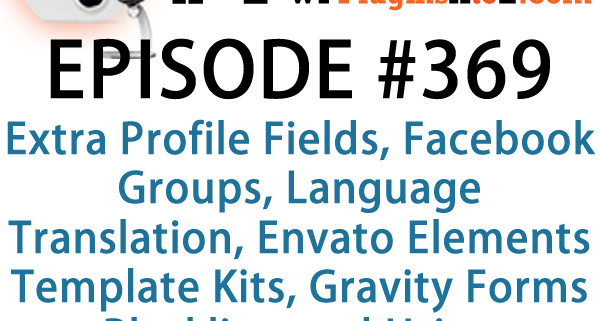 Podcast: Play in new window | Download | Embed
Subscribe: Google Podcasts | RSS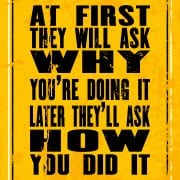 It's Episode 369 and we've got plugins for Extra Profile Fields, Facebook Groups, Language Translation, Envato Elements Template Kits, Gravity Forms Blacklists and Using WordPress to Brew Beer. It's all coming up on WordPress Plugins A-Z!
All the show notes can be found at: WPPluginsAtoZ.com
Make sure you subscribe and review the show at:
Stitcher Radio, Google Play and in the iTunes Store.
Check out our Training Videos, Screencasts and Watch Us Live on YouTube the first Monday of every month at 10am PST
Follow the show on Twitter @wppluginsatoz
Subscribe to our Newsletter
Today we are reviewing our usual allotment of six great plugins.
John
Profile Extra Fields by BestWebSoft
https://wordpress.org/plugins/profile-extra-fields/

Last Updated:
10 August 2023
The Lowdown:
If your building a membership website you may have a need for additional fields to collect specific information. This plugin allows you to add and display additional fields to the user profile. It is easy to use and works well.
Rating 4 Dragons
Marcus
WP Facebook Group Promoter
https://wordpress.org/plugins/wp-facebook-group/

Last Updated:
01 January 1970
WP Facebook Group Promoter Plugin lets you promote and invite your website/blog readers to your group. The plugin lets people join your Facebook group from a link on your WordPress website posts/pages, widget or via shortcode. This is completely customizable, responsive & search engine friendly. This is one of the few FB group plugins that are in existence. We need many more!
Rating: 4 out of 5
This show is brought to you by:
Finding quality WordPress Hosting and support can be a challenge, well you can drop that stress by contacting JohnOverall.com web services. I can help you eliminate your WordPress stress. Solving your WordPress Emergency issues or doing the more day to day items such as finding that perfect plugin, helping you move to a new hosting provider or even provinding Quality WordPress hosting.
With 20yrs. Exp on-line and over 8 years dedicated to WordPress JohnOverall.com Provides all your web service needs from hosting to WordPress development, repairs and https://wpmalwareremoval.com/.
Visit my website JohnOverall.com, Call 818-850-7729 or send an email to john@wppro.ca
Contest win a Premium Plugin License For:
This month we are giving away a Premium License version of the WP Nearby Places plugin from https://wpnearbyplaces.com/ this plugin helps you create very useful Google maps for your site visitors, visit http://WPPluginsAtoZ.com/contests for more info.
Check out the interview with Albert Harlow from WP Nearby Places where we discuss the plugin a bit more in-depth, listen here.
You can also get a discount off the plugins with a 25% off coupon code for WP Nearby places. Use the code "FLASH"
Contests powered by the Simple Giveaways Plugin https://en-ca.wordpress.org/plugins/giveasap/ get the pro version here http://www.wpsimplegiveaways.com/.
Our next couple plugins for you are
John
Translate WordPress with GTranslate
https://wordpress.org/plugins/gtranslate/

Last Updated:
25 August 2023
The Lowdown:
This is an easy way to add machine translations to your site without allot of fuss and producing multiple pages. All you need to do is plug it in and choose the languages you want added for translation. There is a preimum version for more features but if your looking for sometyhin simple this is it.
Rating 4 Dragons
Marcus
Envato Elements – Template Kits (Beta)
https://wordpress.org/plugins/envato-elements/

Last Updated:
17 April 2023
Envato elements templates are specially designed for popular WordPress page builders, Elementor & Beaver Builder. Install the plugin and browse their growing library of Template Kits. Each Kit is made up of multiple templates that work together visually, and are beautifully tailored for a specific niche. Once you find a template that you like, you can directly import it into your library, or use it to create a new page. You can also combine templates to create inspiring, quality websites in less time, with less effort. I love Envato Elements and all of their products. I've payed for the service since the day they announced it and it's worth every penny.
Rating: 5 out of 5
Listener Feedback / Audio Clips
We like listener feedback you can leave feedback via our contact page, Speakpipe or email us direct.
Show Donors
This Show is a Value for Value model meaning if you get any Value out of it please give some Value back and in that vein we would like to acknowledge those that have supported the show in the past week. All donations $50 and over are read out and their note is published here.
For all those who come in below $50 they will remain anonymous and we thank you very much.
This week's Donor/'s are:
Jezweb Pty Ltd
Note from Jezweb Pty Ltd:
This donation is on behalf of Classic Bike Spares https://www.classicbikespares.com.au who sell replacement parts for vintage Norton and Triumph motorcycles. It is a WordPress website with a customized Woocommerce store created by Jezweb https://www.jezweb.com.au . Thank you for continuing to review and discover new WordPress Plugins. Jez
And a big thank you to our donors who came in under $50 and to those who have set up weekly subscriptions.
All these small subscriptions really help the show out.
Here are ways you can support the show:
Support the show by going http://wppluginsatoz.com/donate/
This show is listener supported and we can use more than just money to help the show grow.
Visit WPPluginsAtoZ.com to learn how you can support the show in other ways.
You can also create a monthly donation at Patreon
Remember to support the show at WPPluginsAtoZ.com.
Our last couple plugins today are:
John
BSK Gravity Forms Blacklist
https://wordpress.org/plugins/bsk-gravityforms-blacklist/

Last Updated:
20 April 2023
The Lowdown:
This addon for gravity forms is great to have when even after adding recaptche and hony pot your still seeing spam from specific domain or counties. With the plugin you can set up specific blacklists by items such as if a specific domain appears in the email they emneter it gets turfed. A great plguuin.
Rating 4 Dragons
Marcus
BrewPress
https://wordpress.org/plugins/brewpress/

Last Updated:
01 January 1970
This is where we get into an area that I would probably classify as the Internet of Things, but with a WordPress twist. BrewPress is a brewery controller that runs on the Raspberry Pi and allows you to brew beer using WordPress. You can run BrewPress on any WordPress website to test and to create 'dummy' batches. To enable the control of physical heating elements and pumps, it needs to be run on a WordPress installation on the Raspberry Pi. Would this mean that my beer can possibly be hacked?
Rating: 4 out of 5
Closing out this Episode The Plugins we covered where:
John's Plugins: Profile Extra Fields by BestWebSoft – 4, Translate WordPress with GTranslate – 4, BSK Gravity Forms Blacklist – 4
Marcus' Plugins: WP Facebook Group Promoter – 4, Envato Elements Templates – 5, BrewPress – 4
Reminders / Commercial / Promotions:
Check out the Victoria WordPress meetup group and that the sessions will be recorded.
Be sure to check out our YouTube Channel for screencasts, training videos and more.
Note to developers who would like to support the show. If you would like to offer up a premium license to give away please go to WPPluginsAtoZ.com/PluginContest.
WordPress News and other interesting WordPress related posts:
For news and information that is related to WordPress be sure and subscribe to our Newsletter.
Just some reminders:
Remember to support the show at wppluginsatoz.com/donate
All the show notes can be found at: WPPluginsAtoZ.com
Make sure you subscribe and review the show at:
Stitcher Radio, Google Play and in the iTunes Store
Follow the show on Twitter @wppluginsatoz
Watch us Live, our Screencasts, Training Videos and Subscribe to us on YouTube
How to Contact Us:
John can be contacted at:
Marcus can be contacted at:
Marcus Couch can be contacted at his website at marcuscouch.com
Twitter @marcuscouch
and remember to follow the show on twitter @wppluginsatoz
https://www.johnoverall.com/wp-content/uploads/2018/08/featured-369.png
600
600
Ahkonsu
https://www.johnoverall.com/wp-content/uploads/2017/10/John-Overall-Logo-PNG-to-go-on-GREEN-Horizontal.png
Ahkonsu
2018-08-14 08:20:57
2018-08-14 08:20:57
WordPress Plugins A to Z Episode 369 Gravity Forms Blacklists and Using WordPress to Brew Beer