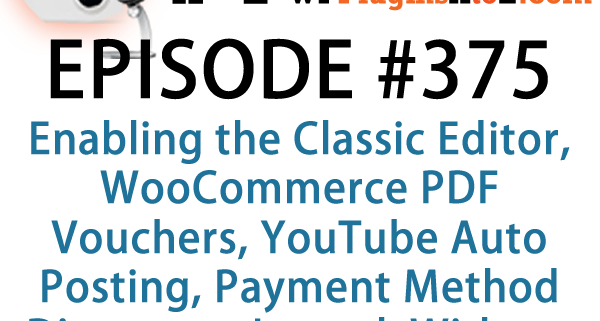 https://www.johnoverall.com/wp-content/uploads/2018/09/Episode375-WPPlugins-A-to-Z.mp3
Podcast: Play in new window | Download | Embed
Subscribe: Google Podcasts | RSS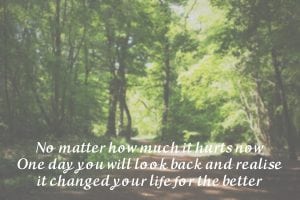 It's Episode 375 and we've got plugins for Enabling the Classic Editor, WooCommerce PDF Vouchers, YouTube Auto Posting, Payment Method Discounts, Jetpack Without Promotions and Tables from CSV. It's all coming up on WordPress Plugins A-Z!
All the show notes can be found at: WPPluginsAtoZ.com
Make sure you subscribe and review the show at:
Stitcher Radio, Google Play and in the iTunes Store.
Check out our Training Videos, Screencasts and Watch Us Live on YouTube the first Monday of every month at 10am PST
Follow the show on Twitter @wppluginsatoz
Subscribe to our Newsletter
Today we are reviewing our usual allotment of six great plugins.
John
Classic Editor Addon
https://wordpress.org/plugins/classic-editor-addon/

Last Updated:
10 November 2023
The Lowdown:
This is a simple addon to the Classic editor plugin that many like me may be using across yours and clients sites. What is does is remove the option to turn it off on the settings page. This will prevent your client from accidentally turning it off there. I am in favor right now of anything that keep Gutenberg off.
Rating 5 Dragons
Marcus
WooCommerce PDF Vouchers
https://elements.envato.com/woocommerce-pdf-vouchers-wordpress-plugin-WBSF94R
WooCommerce PDF Vouchers allows you to sell voucher codes that can then be redeemed at a physical location. This is perfect for stores that wish to sell tickets to events, discount codes for on-site pickup, class admission tickets and more. You can give your customers the ability to set a recipient name, email, and message to purchase these vouchers as a gift or for themselves.
With the PDF Vouchers Extension, You can create unlimited vouchers, either for Local Businesses / Local Stores or even online stores.
Features:
Easy to setup and use.
Connect Your Business and Online Store with Customizable PDF Vouchers.
Can be customized for each product.
Add a custom Logo to the PDF.
Add custom redeem instructions to the PDF.
Add unlimited locations to the PDF where the voucher can be redeemed.
Ability to add Buyer's name, Buyer's Email, Product Name, Product Price, OrderId, Order Date etc to the PDF.
Allows you to generate unlimited unique codes without the need to provide them.
Allow to import codes via csv.
Allows to enter voucher codes manually, as comma separated list.
Ability to restrict codes to be used only one time.
Ability to use codes unlimited times.
Detailed report about all purchased voucher codes and used voucher codes.
Ability to export a list of all purchased voucher codes as PDF and CSV as well. This includes the complete customer details.
Ability to create unlimited voucher templates with Drag & Drop interface.
Ability to assign vendor users to voucher product.
Send Emails to Vendors when their voucher get sold out.
Ability to check voucher code is Valid or not for vendors.
Added support of QRcode and Barcode for vouchers.
Supports using vouchers with variable products.
Allow your customers to personalize their vouchers on the store's frontend to create attractive and unique gifts by selecting from several alternative voucher templates and adding a recipient name and/or message, and use the recipient email field to send the voucher as a gift via email.
Ability to set vendor's logo, website URL, locations etc at vendor level.
Create gift certificates with variable amounts by using the Pay Your Price extension.
Ability to create coupon codes automatically based on voucher codes purchasing to allow users for online store redemption.
Plugin Compatibility:
WooCommerce Bookings
WC Vendors
WC Vendors Pro
Pay Your Price
Social Deals Engine WooCommerce Edition
Dokan Multivendor
WooCommerce Order SMS Notification
qTranslateX
Demo:
Front end -> http://demo.wpweb.co.in/woocommerce-pdf-vouchers/
Back end -> http://demo.wpweb.co.in/woocommerce-pdf-vouchers/wp-admin/
Rating: 5 out of 5
This show is brought to you by:
Finding quality WordPress Hosting and support can be a challenge, well you can drop that stress by contacting JohnOverall.com web services. I can help you eliminate your WordPress stress. Solving your WordPress Emergency issues or doing the more day to day items such as finding that perfect plugin, helping you move to a new hosting provider or even provinding Quality WordPress hosting.
With 20yrs. Exp on-line and over 8 years dedicated to WordPress JohnOverall.com Provides all your web service needs from hosting to WordPress development, repairs and https://wpmalwareremoval.com/.
Visit my website JohnOverall.com, Call 818-850-7729 or send an email to john@wppro.ca
X² Marketing
X² Marketing is your full-service digital marketing and brand development agency. Whether you are a solo entrepreneur, small business or enterprise level company; power up your marketing with X2. From WordPress to ClickFunnels, Landing Pages to Social Campaigns, SEO, Paid Ads, Infusionsoft management and more. Visit X2marketing.com and get in touch with Marcus about your digital marketing needs.
Contest win a Premium Plugin License For:
This month we are giving away a Ultimate Bundle License package for WPBooklist https://wpbooklist.com/index.php/downloads/ultimate-bundle/ Valued at $83
"WPBookList is a WordPress plugin that strives to be the Ultimate Book-Management tool. Whether you're an Author, a publisher, a Librarian, a Bookstore Owner, or simply a lover of books, WPBookList has something for you! Simply plug in an ISBN or ASIN number and let WPBookList scour Amazon and other sources for tons of information about each title, including Cover Images, Publication Date, number of pages, and more. Don't like the info that Amazon has for a book? No problem, all fields are editable, and books can be added manually as well. Be sure to check out the WPBookList Extensions, including the popular Amazon Affiliate Extension, the Bulk-Upload Extension, and the WPBookList Mobile App, which allows the user to add books to their website by simply scanning a barcode! Get your Extensions, StylePaks, and Template Paks at WPBookList.com."
You can also get a discount off the plugins with a $12 off coupon code for WP Booklist. Use the code " ULTIMATE20″ all caps and save.
Contests powered by the Simple Giveaways Plugin https://en-ca.wordpress.org/plugins/giveasap/ get the pro version here http://www.wpsimplegiveaways.com/.
Our next couple plugins for you are
John
Sent in by Szabolcs Istvan Kisded
Youtubomatic Automatic Post Generator and YouTube Auto Poster Plugin for WordPress
https://coderevolution.ro/
https://codecanyon.net/item/youtubomatic-automatic-post-generator-and-youtube-auto-poster-plugin-for-wordpress/19622635?ref=coderevolution
The Lowdown:
This is a premium plugin which looks to have some great functions for using YouTube. You can setup to do auto searches annd imports of youtube videos and it brings in descriptions andcomments on the video. You can also use it to auto post to youtube from your site if you upload or link a video from your posts.
Rating 4 Dragons
Marcus
WooCommerce Simple Payment Discounts
https://wordpress.org/plugins/woo-simple-payment-discounts/

Released:
06 September 2018
Last Updated:
06 September 2018
This plugin allows you to add discounts per payment methods. Let's just say you prefer PalPal over Credit Card payments. You can apply a special discount for just PayPal payers. Just set an amount (fixed or percentage) to the payment methods you want to give discount and is ready! You can also display a custom name for each discount. Discounts will be shown on cart and checkout.
Rating: 5 out of 5
Listener Feedback / Audio Clips
We like listener feedback you can leave feedback via our contact page, Speakpipe or email us direct.
Show Donors
This Show is a Value for Value model meaning if you get any Value out of it please give some Value back and in that vein we would like to acknowledge those that have supported the show in the past week. All donations $50 and over are read out and their note is published here.
For all those who come in below $50 they will remain anonymous and we thank you very much.
This week's Donor/'s are:
And a big thank you to our donors who came in under $50 and to those who have set up weekly subscriptions.
All these small subscriptions really help the show out.
Here are ways you can support the show:
Support the show by going http://wppluginsatoz.com/donate/
This show is listener supported and we can use more than just money to help the show grow.
Visit WPPluginsAtoZ.com to learn how you can support the show in other ways.
You can also create a monthly donation at Patreon
Remember to support the show at WPPluginsAtoZ.com.
Our last couple plugins today are:
John
Jetpack Without Promotions
https://wordpress.org/plugins/hide-jetpack-promotions/

Last Updated:
08 March 2023
The Lowdown:
This is another simple plugin to help clean clutter from your website if you use jetpack. It remove all the promotion junk jetpack pput in your admin area simple and great.
Rating 5 Dragons
Marcus
Table Builder for CSV
https://wordpress.org/plugins/table-builder-for-csv/

Released:
05 September 2018
Last Updated:
28 October 2019
The Table Builder for CSV creates HTML table from csv file. It provides pagination and search filter capabilities for created table. Also,
you can customize settings of created table and define new captions for columns headers. For using this plugin, you should place your csv
files in the WordPress uploads folder.
Rating: 4 out of 5
Closing out this Episode The Plugins we covered where:
John's Plugins: Classic Editor Addon – 5, Youtubomatic Automatic Post Generator – 4, Jetpack Without Promotions – 5
Marcus' Plugins: WooCommerce PDF Vouchers – 5, WooCommerce Simple Payment Discounts – 5, Table Builder for CSV – 4
Reminders / Commercial / Promotions:
Check out the Victoria WordPress meetup group on Sept 5, 2018 and if all goes well it will be streamed live on YouTube and be recorded.
Be sure to check out our YouTube Channel for screencasts, training videos and more.
Note to developers who would like to support the show. If you would like to offer up a premium license to give away please go to WPPluginsAtoZ.com/PluginContest.
WordPress News and other interesting WordPress related posts:
For news and information that is related to WordPress be sure and subscribe to our Newsletter.
Just some reminders:
Remember to support the show at wppluginsatoz.com/donate
All the show notes can be found at: WPPluginsAtoZ.com
Make sure you subscribe and review the show at:
Stitcher Radio, Google Play and in the iTunes Store
Follow the show on Twitter @wppluginsatoz
Watch us Live, our Screencasts, Training Videos and Subscribe to us on YouTube
How to Contact Us:
John can be contacted at:
Marcus can be contacted at:
Marcus Couch can be contacted at his website at marcuscouch.com
Twitter @marcuscouch
and remember to follow the show on twitter @wppluginsatoz
https://www.johnoverall.com/wp-content/uploads/2018/09/featured-375.png
600
600
Ahkonsu
https://www.johnoverall.com/wp-content/uploads/2017/10/John-Overall-Logo-PNG-to-go-on-GREEN-Horizontal.png
Ahkonsu
2018-09-24 10:27:55
2018-09-24 10:27:55
WordPress Plugins A to Z Episode 375 Enabling the Classic Editor, WooCommerce PDF Vouchers