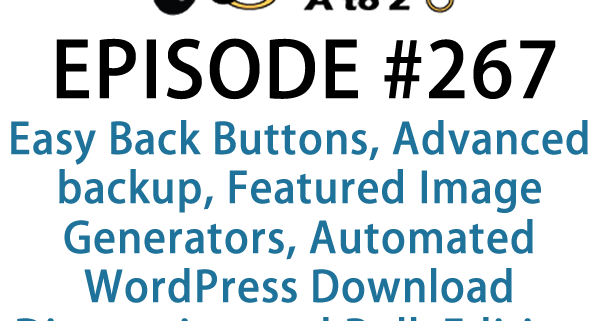 http://www.johnoverall.com/wp-content/uploads/2016/08/Episode267-WPPlugins-A-to-Z.mp3
Podcast: Play in new window | Download | Embed
Subscribe: Google Podcasts | RSS | More
Thank Our Donors
$55 from Jez at Jezweb Pty Ltd.
Keep up the good work guys, thank yuou for bringing to light new and interesting plugins each week. This donation is coming to you on behalf of one of our clients: Clements Airconditioning – www.ClementsCare.com.au
Thanks to all donors who came in under $50
For those who have asked about Patreon we will have a Patreon account launching in a couple weeks where you can donate on a monthly basis. We will be offing as an incentive plugin tutorial videos on how to setup and use the plugins we review and use.
WordPress News and other interesting WordPress related posts:
Listener Feedback / Audio Clips
Speakpipe from Jez at Jezweb Pty Ltd. coment about the Smart Crawl SEO plugin from WPMU and updraft plugin
**WordPress Plugins Reviewed by John Overall**
All in all a pretty great plugin simple easy and works just the way we like them.
sent in by Tsvetan Tsvetkov at http://ignitevision.bg/
IVGuard
The Lowdown:
This looks to be a premium plugin and looks to be in beta maybe after beta they will set the price.
IVGuard looks to be a pretty nice site protection plugin if a little confusing in whether it costs anything. It seems to make a backup of your site right away as you activate the plugin.
Looks like you can add multiple site although did not test that. Their dashboard is a bit confusing right now but I am sure it will improve. I found a place where it lists what they have labeled as suggestions but seems to be a list of files to have a look at. It did present a a couple false positives. All in all this looks like it will be a pretty good plugin once they get though the bugs and flow.
This is a pretty decent backup plugin for those that need a straightforward backup plugin. You can set it to automatically backup daily, weekly or monthly. You can have it store locally, or FTP, Amazon S3, Rackspace or email you the file. Although emailing most backup files is pretty hard these days since they are often a few gigs in size. I am not sure about the function Jez mentioned that causes a backup just before updates. I tried this but did not get it to activate and cannot locate a setting for it but it is a great idea and if it does that such a great feature. It does seem to have a restore feature but I did not test that. All in all a pretty nice plugin
**WordPress Plugins Reviewed by Marcus Couch**
Download Directory
Create a download directory website in a minute. Allow registered users to receive update alert for new software's version. I examined this for possible use of the Membership Coach site, but it doesn't have everything I'm looking for. It is though, a really nice self-updating directory service for WordPress.
Back Button
A simple back button added to all post types edit page. You can filter and navigate to posts lists without worrying about updating the post and lose the posts before. This is something I've kind of been seeking out for some time. I have developed a conference plugin and depending on what category or session speakers are being looked at, it was always hard to place a fixed back button. This seems to do a nice job so far.
Bulk Edit WooCommerce
With this plugin, you can bulk edit WooCommerce products fields such as SKU, Catalog Visibility, Stock, Quantity, Regular Price, Sale Price, Shipping Class, Weight and Dimensions.
This bulk edit plugin allows you to edit multiple products at a time whether it's a simple product. You can filter the products to edit using the Filter option provided by the plugin. Filters can be applied using various parameters like Type of the Product, Category of the Product, Attributes, Price, etc. You will be able to edit as many products as you want in just one step and edit fields such as SKU, Stock, Regular Price, Sale Price, Weight, Height, etc. The complete list is given below. You can even increase or decrease all prices in a category by a set percentage % or dollar value $ for quick sales or product price increases/decreases all in one step. You can even bulk add sale prices to products that do not currently have sale prices active. Also, change you can easily Regular Price by % or Flat price.
There is a premium version. So I took 1 point off for this version's review.
Save
Save
Save
https://www.johnoverall.com/wp-content/uploads/2016/08/featured-267.png
600
600
John
https://www.johnoverall.com/wp-content/uploads/2017/10/John-Overall-Logo-PNG-to-go-on-GREEN-Horizontal.png
John
2016-08-08 11:28:02
2016-08-08 11:31:16
WordPress Plugins A-Z #267 Advanced backup Features, Featured Image Generators