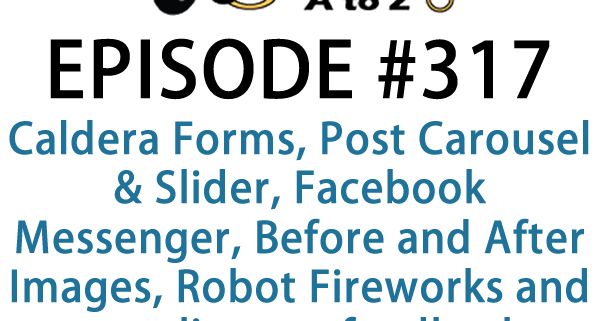 http://www.johnoverall.com/wp-content/uploads/2017/07/Episode317-WPPlugins-A-to-Z.mp3
Podcast: Play in new window | Download | Embed
Subscribe: Google Podcasts | Stitcher | RSS | More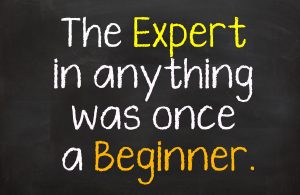 It's Episode 317 and we've got plugins for Caldera Forms, Post Carousel & Slider, Facebook Messenger, Before and After Images, Robot Fireworks and your listener feedback. It's all coming up on WordPress Plugins A-Z!
Don't forget you can get the show notes at:
WordPress Plugins A-Z Podcast Can also be found at WPPluginsAtoZ.com
And head on over and review us at:
WordPress Plugins A-Z Podcast can be found on Stitcher Radio Click here to Download app or listen online Now.
WordPress Plugins A-Z Podcast can be found on the iTunes Store here.
Follow the show on Twitter @wppluginsatoz
>>>Self Promotion here<<<
When things go wrong with your WordPress website you're throwing your hands up in the air then you need Emergency WordPress Support When that happens simply contact me though my website at JohnOverall.com and submit a request for emergency support and I will get you up and running fast.
Are you a WordPress professional or looking for one then check out the WP Plugins A to Z Job Board where WordPress Professionals can offer up their services and people can place their needs. Find the WPAZ Job Board at http://wppluginsatoz.com/jobs this board is open to everyone.
—
Anyone listening to this show has a passion for WordPress. Want to write about something unique within WordPress? I'm now the WordPress Editor for Smashing Magazine, one of the biggest web design resources online. I'm looking for folks to write great articles about WordPress. Get a lot of exposure to yourself and your work. Email marcus.couch at smashingmagazine.com and I'll reply back with more info. It's a great opportunity to contribute to the WordPress community, get exposure and get a few hundred bucks for the effort too.
---
Contest Winner
Congratulations to Loui the Winner of the VC Splitter license. A generous donation from James Cantoni from https://VCSplitter.com who you can here the interview here he has generously donated a Lifetime Pro License for the plugin VC Splitter which was reviewed in Episode 310.
More Contests coming soon.
>> Also there is a discount for WP Plugins A to Z listeners for the VC Splitter you can save 30% by using the coupon code ATOZ30
Thank Our Donors
We would like to thank our donors to the show, everyone who donates $50 or more will be acknowledged here with a mention and a link back to their page and all those below will be anonymous
$50 from Larry Snow
A small token of my appreciation and thanks for all that you do to give back to the WordPress community.
Thanks to all donors who came in under $50
A big thank you too our new donors who came in under $50 and to those who set up weekly subscriptions. Those small subscriptions really help the show. You can donate here http://wppluginsatoz.com/donate
You can now donate though Patreon at http://patreon.com/wppluginsatoz where you can donate on a monthly basis. As an incentive if you donate $40 a month you will gain access to the exclusive plugin tutorial videos on how to setup and use the plugins we review and use.
WordPress News and other interesting WordPress related posts:
New Custom HTML Text Widget in WordPress 4.8.1 – First Look
https://www.blogaid.net/new-custom-html-text-widget-in-wordpress-4-8-1-first-look/
13 Crucial WordPress Maintenance Tasks to Perform Regularly
http://www.wpbeginner.com/beginners-guide/wordpress-maintenance-tasks-to-perform-regularly/
Your WordPress plugins might be silently losing business data
https://venturebeat.com/2017/07/19/your-wordpress-plugins-might-be-silently-losing-business-data/
Listener Feedback / Audio Clips
From our YouTube Channel
Marc-Antoine Minville
Nice KJM Admin Notices review, thank you guys!! Just discovered your channel and will follow it I think, very interesting 😉
Speakpipe comment
from Craig McCourt — remember you can leave your own comment using speakpipe
And Craigs updated Itunes Review
United States
5 Stars
CraigMcCourt
From Good to GREAT
I have been an avid listener of WordPress Plugins A to Z for several years and my website http://PonderingGod.com has been improved by their insights. They have taken one of my favorite podcats and made it even better they have beefed up the audio quality, the content, Shownotes, the website and now they have even gone to a live Video broadcast of the podcast . While I will most often listen in my car it is nice to see the video when I am wanting to remember what they said in last weeks show. Well Done and keep it up. If you want to see more proof that they give good advice, you can check out my website at http://PonderingGod.com, I should list them as developers for all the advice I have used over the years.
John's Rant: What to rant about?
We now have training videos up and on-linepart of the WP Plugins network you can find them here at http://wpsupport.ca/category/public-wordpress-training-videos/ or here http://wpsupport.ca/category/members-wordpress-training-videos/ new videos being done weekly.
Comment on how the last few weeks that several of the WordPress websites are coincidentally putting out articles on the exact same plugs we just reviewed in the show, and if they are getting the idea from us it would be nice if they credited us.. We talk about them on Monday and about Wednesday or Thursday their articles come out.
**WordPress Plugins Reviewed by John Overall**
Post Carousel & Slider
sent in by Aeonian
https://wordpress.org/plugins/post-types-carousel-slider/

The Lowdown:
This is another post slider plugin but does seem to be a bit easier than some I have used to create a post slider. It has custom post type support, you can include or exclude categories, show posts of only a certian tag and you can also show posts based on a keyword search. Determine how many posts to appear per page, choose a layout from full width to grid style set you excerpt length and then insert it via short code into the site.
Rating 4 Dragons
Rocket Fireworks
https://wordpress.org/plugins/rocket-fireworks/

Released:
07 November 2016
Last Updated:
05 July 2022
The Lowdown:
This comes from the last page of recommended plugins.
In honor of The WP Plugins show approaching Episode 320 and that we now have Training videos starting to appear I thought I would play a little with some celebration plugins. This one is simple yet effective every time a page is loaded it created about a 5 to 10 second barrage of fireworks that explode in multi colours on the page then stops. There are not settings just install and activate and it works. A great way to celebrate.
Rating 3 Dragons
WP Live Messenger
https://wordpress.org/plugins/wp-live-messenger/

Last Updated:
10 November 2017
The Lowdown:
If you are like most every other business out there you have a
FaceBook page
for it we are no different stop in and like us at
https://www.facebook.com/WordPressPluginsA2Z
and what this plugin will do for you is to allow your site visitors to start a FB messenger conversation with you. pretty simple to get up and running just place your FB url in the setting and it set an icon on your site that can be clicked to start a conversation.
Rating 4 dragons
**WordPress Plugins Reviewed by Marcus Couch**
Caldera Forms
https://wordpress.org/plugins/caldera-forms/

Last Updated:
01 January 1970
Caldera Forms
is a different kind of WordPress form builder. With its intuitive drag and drop interface, it's never been easier and less stressful to create forms for your WordPress site that look awesome on any device. The visual editor simplifies form building for WordPress. Set up your form with multiple columns, add additional pages, and funnel user responses with conditional logic to get more robust data and relevant information from your customers and visitors.
Zotabox Facebook Messenger Live Chat
https://en-ca.wordpress.org/plugins/zotabox/

Last Updated:
25 July 2023
Support your customers via
Facebook
Live Chat. Start conversation on your website. Take advantage of
Facebook
Messenger with over 800 million active monthly users. This plugin is Free and convenient. Permenant chat history available for both store owner and customer. Zotabox includes 20+ Free and Premium on-site marketing tools to boost your sales and get more subscribers. This is a freemium plugin with lots of other options added for a small cost.
Rating: 4 out of 5
Twenty20 Image Before-After
https://wordpress.org/plugins/twenty20/

Last Updated:
23 March 2023
Twenty20 is the WordPress plugin of TwentyTwenty script that developed by Zurb team. This sparked a few new ideas on how to do something similar for our own needs. It had to swipe between two images to show "before" and "after". Most of all, it had to be responsive. This plugin takes all of that into account with a great before and after image tool that beats all others I have tried.
Rating 5 out of 5
Plugins Overview:
John's Plugins: Post Carousel & Slider – 4, Rocket Fireworks – 3, WP Live Messenger – 4
Marcus' Plugins: Caldera Forms – 5, Zotabox FB Messenger – 4, Before and After – 5
Just some reminders:
Rate us at iTunes, blubrry.com, ViaWay.com, Stitcher Radio and any place else you find us.
How to Contact Us:
John can be contacted at:
Marcus can be contacted at:
Marcus Couch can be contacted at his website at marcuscouch.com
Twitter @marcuscouch
and remember to follow the show on twitter @wppluginsatoz
https://www.johnoverall.com/wp-content/uploads/2017/07/featured-317.png
600
600
Ahkonsu
https://www.johnoverall.com/wp-content/uploads/2017/10/John-Overall-Logo-PNG-to-go-on-GREEN-Horizontal.png
Ahkonsu
2017-07-24 12:41:24
2017-07-24 12:41:24
WordPress Plugins A-Z #317 Caldera Forms, Post Carousel & Slider