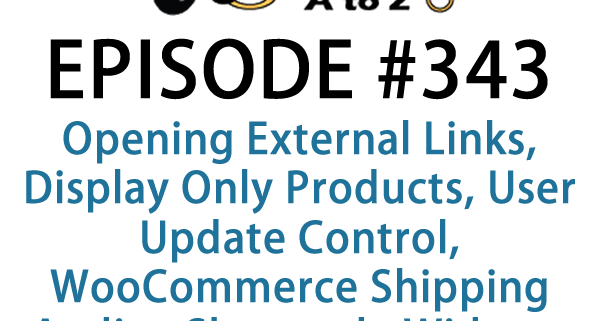 https://www.johnoverall.com/wp-content/uploads/2018/02/Episode343-WPPlugins-A-to-Z.mp3
Podcast: Play in new window | Download | Embed
Subscribe: Google Podcasts | RSS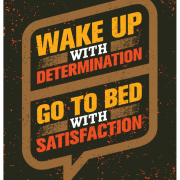 It's Episode 343 and we've got plugins for Opening External Links, Display Only Products, User Update Control, WooCommerce Shipping Audits, Shortcode Widgets and Extra Fees. It's all coming up on WordPress Plugins A-Z!
All the show notes can be found at: WPPluginsAtoZ.com
Make sure you subscribe and review the show at:
Stitcher Radio, Google Play and in the iTunes Store.
Check out our Training Videos, Screencasts and Watch Us Live on YouTube every Monday morning at 10amPST
Follow the show on Twitter @wppluginsatoz
Subscribe to our Newsletter
Today we are reviewing our usual allotment of six great plugins.
John
Open external links in a new window
https://wordpress.org/plugins/open-external-links-in-a-new-window/

Released:
24 September 2010
Last Updated:
19 November 2023
The Lowdown:
Sometimes when you are working on a site you will be adding links to other areas or have sites you link to that you will need to open in another window. This plugin is a great one for having all external links on your site open in a new window so that when your visitor closes it they are back on your site. You can also specify certain URLs that should either be forced to open in a new window or ignored.
Rating 4 Dragons
Marcus
Non-Purchasable WooCommerce Products
https://wordpress.org/plugins/non-purchasable-woocommerce-products/

Released:
06 February 2018
Last Updated:
02 June 2021
Set certain WooCommerce products to be non-purchasable (display-only), with a custom message and button text.
Features
* Ability to change the status from Purchasable vs Non-Purchasable
* Works with all product types, including variable products.
* Customize the button text and message on product pages.
* Disable the message output completely if you choose.
Rating: 4 out of 5
This show is brought to you by:
John Overall.com WordPress & Web Services
Finding quality WordPress Hosting and support can be a challenge, well you can drop that stress by contacting JohnOverall.com web services. I can help you eliminate your WordPress stress. Solving your WordPress Emergency issues or doing the more day to day items such as finding that perfect plugin, helping you move to a new hosting provider or even provinding Quality WordPress hosting.
With 20yrs. Exp on-line and over 8 years dedicated to WordPress JohnOverall.com Provides all your web service needs from hosting to WordPress development, repairs and https://wpmalwareremoval.com/.
Visit my website JohnOverall.com, Call 818-850-7729 or send an email to john@wppro.ca
Contest win a Premium Plugin License For:
We currently have a contest running until Feb 14, 2018 and we are giving away a premium license from https://foliovision.com/ for thier FV Player Pro plugin you can also check out the interview I did with Alec Kinnear here http://wppluginsatoz.com/interview-show-17-alec-kinnear-foliovision/ visit http://WPPluginsAtoZ.com/contests for to enter the contest.
Our next couple plugins for you are
John
BusinessPress
https://wordpress.org/plugins/businesspress/

Last Updated:
22 August 2023
The Lowdown:
This is another plugin from FolioVision who we are giving away a premium license for thier FV Player plugin enter at
http://wppluginsatoz.com/contests
and I did an interview with Alec Kinnear here
http://wppluginsatoz.com/interview-show-17-alec-kinnear-foliovision/
check it out.
This plugin make life easier by allowing you to control who can do updates on a site and what they can see and do as well as limiting the auto updates it allows you to control and turn off things like disables the generator tag, REST API and Emojis to keep your site secure and fast. However you can enable these features back on if you prefer, just like the XML-RPC or oEmbed. and more
Rating 4 Dragons
Marcus
Weight Loss
https://wordpress.org/plugins/weightloss/

Released:
06 February 2018
Last Updated:
26 April 2020
This plugin has nothing to do with dieting, fitness or health. However it will save you a lot of stress when it comes to losing money because of improper shipping weights listed on your products. The plugin checks for any Woocommerce products missing weights, which may cause postage calculators to malfunction upon customer checkout. Very easy to use and can search thousands of products for missing weights.
Rating: 5 out of 5
Listener Feedback / Audio Clips
We like listener feedback you can leave feedback via our contact page, Speakpipe or email us direct.
Question from Jeff in Cleveland, Ohio.
Hi John and Marcus, I am writing hoping you can help. My company uses Gmail (Google Apps) for email, and I want to be able to change WordPress settings so that when it emails out, it is using my Gmail account. That way it is authenticated, plus I get a copy in my sent folder. Does this kind of plugin exist?
Answer:
Use https://wordpress.org/plugins/wp-mail-smtp/ WP Mail SMTP plugin and go through the step by step instructions to connect and authenticate your Gmail account. You'll be sending mails from Gmail within 90 seconds of installing the plugin. Enjoy!
Show Donors
This Show is a Value for Value model meaning if you get any Value out of it please give some Value back and in that vein we would like to acknowledge those that have supported the show in the past week. All donations $50 and over are read out and their note is published here.
For all those who come in below $50 they will remain anonymous and we thank you very much.
This week's Donor's are:
And a big thank you to our donors who came in under $50 and to those who have set up weekly subscriptions.
All these small subscriptions really help the show out.
Here are ways you can support the show:
Support the show with a weekly $2.50 subscription by going http://wppluginsatoz.com/donate/
This show is listener supported and we can use more than just money to help the show grow.
Visit WPPluginsAtoZ.com to learn how you can support the show in other ways.
You can also create a monthly donation at Patreon
Remember to support the show at WPPluginsAtoZ.com.
Our last couple plugins today are:
John
Shortcode Widget
https://wordpress.org/plugins/shortcode-widget/

Released:
06 February 2013
The Lowdown:
So even with the new html widget and the text editor widgets in WordPress you still don;t have a native way to execute short-codes in a widget such a pain in the ass.. This plugin solves that issue by creating a widget specifically for executing short code nice and simple and just works.
Rating 5 Dragons
Marcus
WooCommerce Advanced Extra Fees Lite
https://wordpress.org/plugins/woo-advanced-extra-fees-lite/

Last Updated:
01 January 1970
WooCommerce has a powerful Fees API that until now was only accessible to developers. With WooCommerce Advanced Fees store owners can setup rules where fees will be added to the Cart based on what is in the cart, who is buying it, or where the products are being shipped to.
With the 'Extra Cost Options' you have the freedom to setup the fee amount based on weight, present shipping classes, categories and products. Each option has its own minimum and maximum fields for quantity / weight / subtotal requirements. Advanced Fees for WooCommerce is a valuable tool for store owners for creating and managing complex fee rules in their store without the help of a developer!
Features:
* WooCommerce fees can be set globally
* Fees can be set amount (ex.$5) base on cart subtotal,country,stock status.
* Fees can be positive ($3) or negative (-$3)
* Multiple possible conditions to add fees
* Condition grouping for more complex rules
* Schedule publishing of fees for future
* Fees are visible in the Cart, Checkout, Thank You page, and Order email
Rating: 4 out of 5
Closing out this Episode The Plugins we covered where:
John's Plugins: Open external links in a new window – 4, BusinessPress – Shortcode Widget – 5
Marcus' Plugins: Non-Purchasable WooCommerce Products – 4, Weight Loss – 5, WooCommerce Advanced Extra Fees – 4
Reminders / Commercial / Promotions:
Be sure to check out the YouTube Screencast that goes up later and watch the add on part that has john doing a first impression of one of Marcus's Plugin reviews from this show.
Note to developers who would like to support the show. If you would like to offer up a premium license to give away please go to WPPluginsAtoZ.com/PluginContest
We now have training videos up and on-line part of the WP Plugins network you can find them here at http://wpsupport.ca/category/public-wordpress-training-videos/ or here http://wpsupport.ca/category/members-wordpress-training-videos/ new videos being done weekly
.
WordPress News and other interesting WordPress related posts:
For news and information that is related to WordPress be sure and subscribe to our Newsletter.
Just some reminders:
Remember to support the show at wppluginsatoz.com/donate
All the show notes can be found at: WPPluginsAtoZ.com
Make sure you subscribe and review the show at:
Stitcher Radio, Google Play and in the iTunes Store
Follow the show on Twitter @wppluginsatoz
Watch us Live, our Screencasts, Training Videos and Subscribe to us on YouTube
How to Contact Us:
John can be contacted at:
Marcus can be contacted at:
Marcus Couch can be contacted at his website at marcuscouch.com
Twitter @marcuscouch
and remember to follow the show on twitter @wppluginsatoz
https://www.johnoverall.com/wp-content/uploads/2018/02/featured-343.png
600
600
Ahkonsu
https://www.johnoverall.com/wp-content/uploads/2017/10/John-Overall-Logo-PNG-to-go-on-GREEN-Horizontal.png
Ahkonsu
2018-02-12 10:45:26
2018-02-12 21:01:08
WordPress Plugins A to Z Episode 343 Opening External Links, Display Only Products