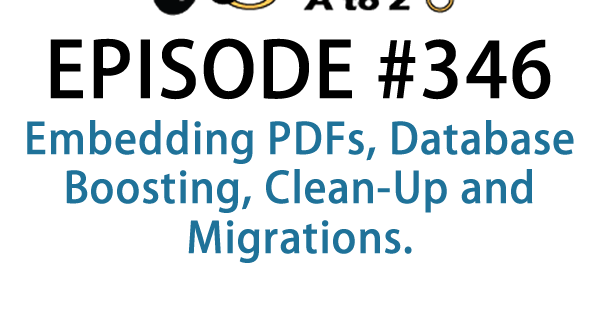 https://www.johnoverall.com/wp-content/uploads/2018/03/Episode346-WPPlugins-A-to-Z.mp3
Podcast: Play in new window | Download | Embed
Subscribe: Google Podcasts | RSS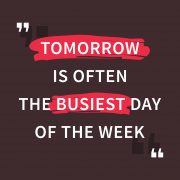 It's Episode 346 and we've got plugins for Embedding PDFs, Database Boosting, Clean-Up and Migrations of Databases. It's all coming up on WordPress Plugins A-Z!
All the show notes can be found at: WPPluginsAtoZ.com
Make sure you subscribe and review the show at:
Stitcher Radio, Google Play and in the iTunes Store.
Check out our Training Videos, Screencasts and Watch Us Live on YouTube every Monday morning at 10amPST
Follow the show on Twitter @wppluginsatoz
Subscribe to our Newsletter
Today I am reviewing four great plugins.
John
And first up I have
WP DB Booster
https://wordpress.org/plugins/wp-db-booster/

Last Updated:
09 November 2017
The Lowdown:
One of the long term problems with WordPress is that as your site mattures and as plugins get abandonded and replaced you acculumate bloat in your databas that needs to be cleaned up. This plugin help you with that task by helping clear out the junk in your database tables. It shows you what tables are using the most space giving you and idea on what tables you can clean up. Keep in mind you should always make a full database backup before you do anything to it.
Rating 3 Dragons
This show is brought to you by:
John Overall.com WordPress & Web Services
Finding quality WordPress Hosting and support can be a challenge, well you can drop that stress by contacting JohnOverall.com web services. I can help you eliminate your WordPress stress. Solving your WordPress Emergency issues or doing the more day to day items such as finding that perfect plugin, helping you move to a new hosting provider or even provinding Quality WordPress hosting.
With 20yrs. Exp on-line and over 8 years dedicated to WordPress JohnOverall.com Provides all your web service needs from hosting to WordPress development, repairs and https://wpmalwareremoval.com/.
Visit my website JohnOverall.com, Call 818-850-7729 or send an email to john@wppro.ca
Contest win a Premium Plugin License For:
I had moved the WP Plugins website to a new server and separated it from the Multi-site integration I had done and some mistakes happened and lost everything for the contest so we have had to restart it
We currently have a contest running until April 1, 2018 and we are giving away a premium license from https://foliovision.com/ for thier FV Player Pro plugin you can also check out the interview I did with Alec Kinnear here http://wppluginsatoz.com/interview-show-17-alec-kinnear-foliovision/ visit http://WPPluginsAtoZ.com/contests for to enter the contest.
Our next couple plugins for you are
John
WPDBSpringClean
https://wordpress.org/plugins/wpdbspringclean/

Last Updated:
11 August 2013
The Lowdown:
I had reviewed this plugin in the past on
Episode 61 WP Plugins A to Z
back in March 6, 2012 6 years ago. Now while this plugin has not been updated in all this timme it still work the way it was supposed to. It allows you to see all tables that are no longer being used by any plugins on your site and sinply delete theme. This is useful if you have removed plugins from your site because there are may WordPress plugins that do not clean up after themselves much your kids they just leave a mess around. Since it is so old the best thing to do with this plugin is to install remove the junk then remove this plugin.
Rating 5 Dragons
Listener Feedback / Audio Clips
We like listener feedback you can leave feedback via our contact page, Speakpipe or email us direct.
Show Donors
This Show is a Value for Value model meaning if you get any Value out of it please give some Value back and in that vein we would like to acknowledge those that have supported the show in the past week. All donations $50 and over are read out and their note is published here.
For all those who come in below $50 they will remain anonymous and we thank you very much.
This week's Donor/'s are:
$50 from JezWeb PTY Ltd
This donation is on behalf of Neatspiration – http://www.neatspiration.com a WordPress website with WooCommerce built by Jezweb http://www.jezweb.com.au in Australia.
And a big thank you to our donors who came in under $50 and to those who have set up weekly subscriptions.
All these small subscriptions really help the show out.
Here are ways you can support the show:
Support the show with a weekly $2.50 subscription by going http://wppluginsatoz.com/donate/
This show is listener supported and we can use more than just money to help the show grow.
Visit WPPluginsAtoZ.com to learn how you can support the show in other ways.
You can also create a monthly donation at Patreon
Remember to support the show at WPPluginsAtoZ.com.
The Last Couple Plugins Today:
WP DB Migrate pro
https://deliciousbrains.com/wp-migrate-db-pro/
The Lowdown:
This is a plugin I had been wanting to try for a while but the price held me off it for a long time until I could justify it. In the past year I had become busy enough to need something that makes the job of keeping dev site in snyc with live sites without allot of work. I also discovered that with this plugin you can make the job of extracting a site from an MU environment a much easier task. It is a premium plugin starting at $99 but most developer will need the $249 developer version.
WP DB Migrate pro will allow you to sync sites and not only import the database but you can also import all the media files with it and they have just released a beta that will allow you to transfer the plugins and keep them in sync. What I found most useful was how this plugin will let you easily extract a single site from an MU enviroment it re maps all the URLs for the database and the media. And if you have ever done a manual extraction of an MU site you will understand the hours this plugin saves for you. While the cost of this plugin is up there the time and grief it save are worth every penny.
Rating 5 Dragons
PDF Embedder
https://wordpress.org/plugins/pdf-embedder/

Last Updated:
22 March 2023
The Lowdown:
Embedding PDFs into WordPress has always been a pain most plugin make the task difficult at best and the native function only embeds a link into the site for people to click on. This plugin actually makes the task of embedding the document to be viewed on the page an easy task. and if you jump to the provesion you get even more control over how it displays and allows for people to download it easily and even to print it out.
Rating 4 Dragons 5 for the pro version
Closing out this Episode The Plugins we covered where:
John's Plugins: WP DB Booster – 3, WPDBSpringClean – 5, WP DB Migrate pro – 5, PDF Embedder – 4 or 5 for pro
Reminders / Commercial / Promotions:
Be sure to check out the YouTube Screencast that goes up later and watch the add on part that has john doing a first impression of one of Marcus's Plugin reviews from this show.
Note to developers who would like to support the show. If you would like to offer up a premium license to give away please go to WPPluginsAtoZ.com/PluginContest
We now have training videos up and on-line part of the WP Plugins network you can find them here at http://wpsupport.ca/category/public-wordpress-training-videos/ or here http://wpsupport.ca/category/members-wordpress-training-videos/ new videos being done weekly
.
WordPress News and other interesting WordPress related posts:
For news and information that is related to WordPress be sure and subscribe to our Newsletter.
Just some reminders:
Remember to support the show at wppluginsatoz.com/donate
All the show notes can be found at: WPPluginsAtoZ.com
Make sure you subscribe and review the show at:
Stitcher Radio, Google Play and in the iTunes Store
Follow the show on Twitter @wppluginsatoz
Watch us Live, our Screencasts, Training Videos and Subscribe to us on YouTube
How to Contact Us:
John can be contacted at:
Marcus can be contacted at:
Marcus Couch can be contacted at his website at marcuscouch.com
Twitter @marcuscouch
and remember to follow the show on twitter @wppluginsatoz
https://www.johnoverall.com/wp-content/uploads/2018/03/featured-346.png
600
600
Ahkonsu
https://www.johnoverall.com/wp-content/uploads/2017/10/John-Overall-Logo-PNG-to-go-on-GREEN-Horizontal.png
Ahkonsu
2018-03-05 11:13:51
2018-03-17 15:20:51
WordPress Plugins A to Z Episode 346 Embedding PDFs, Database Boosting, Clean-Up and Migrations