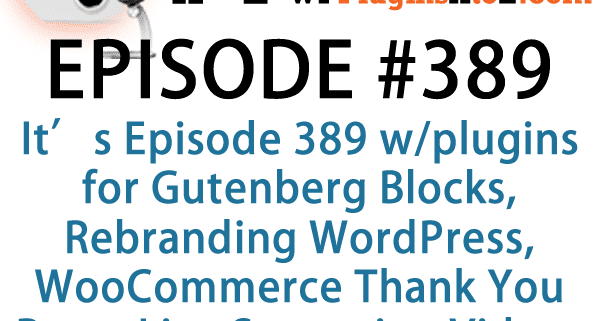 Podcast: Play in new window | Download | Embed
Subscribe: Google Podcasts | RSS | More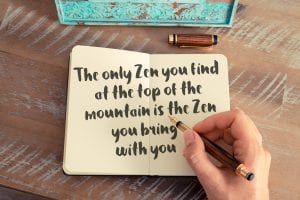 It's Episode 389 and I've got plugins for Gutenberg Blocks, Rebranding WordPress, WooCommerce Thank You Page, Live Streaming Videos and Classic Press Options. It's all coming up on WordPress Plugins A-Z!
All the show notes can be found at: WPPluginsAtoZ.com
Make sure you subscribe and review the show at:
Stitcher Radio, Google Play and in the iTunes Store.
Subscribe and Check out our Training Videos, Screencasts and extra shows. You can also Watch the show Live on YouTube every Thursday at Noon PST
Follow the show on Twitter @wppluginsatoz
Join Us on Our FaceBook Page
Subscribe to our Newsletter
It's the holiday season and a time for giving thanks; remember those in need during this time.
Look for a new segment near the end of the show dedicated to ClassicPress you can find out more at ClassicPress.net
With that lets dive right into the meat and potatoes
Today I have 4 great plugins for you.
John
To start off I have a couple plugins that I have yet to use but thought you might want to know they exist. Keep in mind the ratings are based off the descriptions on their site and using their demo if available.
Sent in by Ray Milidoni
White Label CMS – Rebrand WordPress
https://wordpress.org/plugins/white-label-cms/

Last Updated:
02 November 2023
What they say about it:
The White Label CMS plugin is for developers who want to give their clients a more personalized and less confusing content management system.
Customize the login page
Add your branding to the header and footer
Customize the dashboard
Control which menus appear for your client
Setting up a customized dashboard can be done in seconds using the White Label CMS Wizard
Customize The Login Page
Impress your clients with a branded login page. Add yours or your client's logo, add a background image and even control the CSS if you wish. Personalizing the back end of WordPress will give your client the feeling that this is their website, not a generic website.
Add Your Branding to the Header and Footer
Stay top of mind with your client by adding your branding to the admin bar, menu or footer.
Customize the Dashboard
Are you tired of telling your clients to ignore everything on the Dashboard, but then still receive questions because they're confused or have broken something?
With White Label CMS you can clear everything from the dashboard and add in your own dashboard panel. You can even add your own RSS feed so your clients can be kept up to date with what you are doing in your business. Which is much more relevant to your client than where and when the next WordPress Meetup is.
Add your own welcome dashboard, and now you can use an Elementor or Beaver Builder template to make it look beautiful.
Control with Menus Appear for Your Client
We have created a new feature called the White Label CMS admin which allows you to hide menus for other users. Setup is simple and gives clients admin access with some restrictions making it harder for them to stumble across settings and mess up the site.
Setup a Site in Seconds Using the Wizard
Setting up a customized dashboard is easy and quick using the White Label CMS Wizard. With just a few clicks, you can add your branding and your client's details and be up and running in seconds.
There is so much that you can do with White Label CMS, but we want the experience to be simple. The Wizard allows you to set up a clutter-free, customized dashboard without having to scroll through all of the options that are available to you.
They also have a Video User Manuals plugin which is a paid plugin that is available.
Which it is Gutenberg ready and will have Elementor videos in there also this year.
https://videousermanuals.com
Rating 4 Dragons
——————-
Sent in by Szabolcs Kisded
Premium Plugin – $36
YouLive – Live Stream Broadcaster Plugin for WordPress
https://codecanyon.net/item/youlive-live-stream-broadcaster-plugin-for-wordpress/22549556
What they have to say:
YouLive – Live Stream Broadcaster Plugin for WordPress is a YouTube Live Video streaming tool which allows you to go live on YouTube with pre-recorded videos. You can go live directly on your channel or create a live event for the stream, to increase views. YouTube live stream broadcaster plugin is ideal for increasing your YouTube channel views count in no time, with the help of your WordPress blog. It uses the YouTube native PHP API to boost your YouTube channel's traffic!
Our intuitive, easy-to-use system allows you to simply embed videos in posts that you publish on your blog, and these videos will be automatically be streamed LIVE, to your YouTube channel.
Plugin features:
Go Live on YouTube with pre-recorded videos (YouTube, Vimeo, Twitch, Facebook, Dailymotion or local videos, embedded in published posts)
Create Live Events to increase engagement or simply stream to your YouTube channel's live feed
Broadcasted live videos will be save to your YouTube video library, so they will continue to generate views even after they were broadcasted
Customize generated live video's title and description
Detailed plugin activity logging
Manually post live videos for older posts on your blog
Tutorial video: https://www.youtube.com/embed/2wx9xiZGAHA
Rating 4 Dragons
This show is brought to you by:
John Overall.com WordPress & Web Services
Finding quality WordPress Hosting and support can be a challenge, well you can drop that stress by contacting JohnOverall.com web services. I can help you eliminate your WordPress stress. Solving your WordPress Emergency issues or doing the more day to day items such as finding that perfect plugin, helping you move to a new hosting provider or even providing Quality WordPress hosting.
With 20yrs Exp. on-line and over 8 years dedicated to WordPress JohnOverall.com Provides all your web service needs from hosting to WordPress development, repairs and https://wpmalwareremoval.com/.
Visit my website JohnOverall.com, Call 818-850-7729 or send an email to john@wppro.ca
Contest Info:
Contests Powered by Simple Giveaways who kindly provided us with the premium version for our contests.
The winners of the contests are as follows:
Stay tuned for our next contest
Visit http://WPPluginsAtoZ.com/contests for more info.
The next plugin I have for you is:
WooCommerce Thank You Page Customizer – Increase Your Sales
Freemium – $10
https://wordpress.org/plugins/woo-thank-you-page-customizer/

Released:
09 November 2018
Last Updated:
11 August 2023
The Lowdown:
If you are running a WooCommerce site this may be a plugin for you. It allows you to customize you thank you page and add coupons, maps, easier to read customer information, social sharing links and more when they finish a purchase. This is a great way to add additional value after the purchase to help increase upsells and repeat customers.
Rating 4 dragons
Listener Feedback / Audio Clips
I like listener feedback. You can leave feedback via our contact page, Speakpipe or email us directly.
Some feedback on my recent changes to the show
Listener Questions
——————————–
——————————–
Show Donors
This Show is a Value for Value model meaning if you get any value out of it please give some value back and in that vein we would like to acknowledge those that have supported the show in the past week. All donations $50 and over their note is read out and published here.
For all those who come in below $50 they will remain anonymous and we thank you very much.
This week's Donor/'s are:
A big thank you to those who have hired me because of the Podcast. thank you that is as good as donating to the show.
And a big thank you to our donors who came in under $50 and to those who have set up weekly subscriptions.
All these small subscriptions really help the show out.
Here are ways you can support the show:
There is a new form for donations here https://wppluginsatoz.com/donate-2/
Support the show with a weekly $2.50 subscription by going http://wppluginsatoz.com/donate/
This show is listener supported and we can use more than just money to help the show grow.
Visit WPPluginsAtoZ.com to learn how you can support the show in other ways.
You can also create a monthly donation at Patreon
Remember to support the show at WPPluginsAtoZ.com.
The last plugin I have here today is:
Easy Blocks – Gutenberg Blocks Collection
https://wordpress.org/plugins/ultimate-blocks-for-gutenberg/

Released:
09 November 2018
Last Updated:
20 October 2023
The Lowdown:
Well it has to start sometime: bringing you plugins for Gutenberg blocks. This is one of many to come, I am sure. This one has some simple block for you to use currently 9 with more planning to be added. You get a Testimonial Block, Alert notification, Call to action, card image and text, image content, Heading and sub heading, Block Quotes, Testimonial slider and Click to Tweet.
A pretty good start for blocks
Rating 4 Dragons
ClassicPress Options
Adding a new segment just for Classic Press since the release of Gutenberg ClassicPress has garnered allot of attention.
I will be realeasing a short screen cast about the conversion of a site to ClassicPress and it looked to go very well fast and easy.
This week's ClassicPress plugin/s
I will bring one or more plugins per week here as I can test them.
This week we have one of my staples on all websites.
Wordfence Security – Firewall & Malware Scan
https://wordpress.org/plugins/wordfence/

Last Updated:
28 November 2023
The Lowdown:
This has been a staple on my sites for quite a while. While they have made many changes to the interface it still seems to function pretty well. Testing it on ClassicPress shows it to be working well. I have been using the free version for a long time now and on a few sites the premium version. I have not noticed much of a difference. On a couple sites I have seen it do some live blocking of attacks.
Rating 5 Dragons.
Closing out this episode the plugins I covered were:
John's Plugins: YouLive – Live Stream Broadcaster Plugin for WordPress – 4, White Label CMS – 4, WooCommerce Thank You Page Customizer – 4,Easy Blocks – Gutenberg Blocks Collection – 4, Wordfence Security – 5
Reminders / Commercial / Promotions:
The WordPress MeetUps that are coming up: the next WordPress Meetup in Victoria will be January 22, 2019 and will be broadcast Live on YouTube. Check them out at https://wppluginsatoz.com/meetup. John Overall will be presenting on in January about all that is going on with WordPress and the implementation of the Gutenberg editor in WordPress 5.0
Be sure to check out and subscribe to the YouTube Channel for WP Plugins A to Z where you find training Videos, Screencasts and of course the live show every week.
Note to developers who would like to support the show. If you would like to offer up a premium license to give away please go to WPPluginsAtoZ.com/PluginContest
WordPress News and other interesting WordPress related posts:
For news and information that is related to WordPress be sure and subscribe to our Newsletter.
Just some reminders:
Remember to support the show at wppluginsatoz.com/donate
All the show notes can be found at: WPPluginsAtoZ.com
Make sure you subscribe and review the show at:
Stitcher Radio, Google Play and in the iTunes Store
Follow the show on Twitter @wppluginsatoz
Join Us on Our Facebook Page
Subscribe and check out our training videos, Screencasts and watch us Live on YouTube every Thursday at Noon PST
How to Contact Me:
John can be contacted at:
https://www.johnoverall.com/wp-content/uploads/2019/01/featured-389.fw_.png
600
600
Ahkonsu
https://www.johnoverall.com/wp-content/uploads/2017/10/John-Overall-Logo-PNG-to-go-on-GREEN-Horizontal.png
Ahkonsu
2019-01-03 13:45:13
2019-01-03 13:50:31
YouLive - Live Stream Broadcaster Plugin for WordPress, White Label CMS, WooCommerce Thank You Page Customizer, Easy Blocks – Gutenberg Blocks Collection, Wordfence Security, in Episode 389