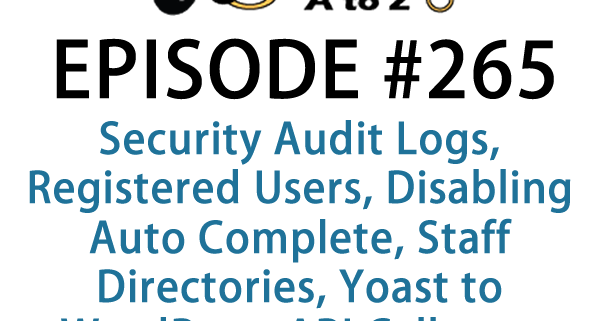 http://www.johnoverall.com/wp-content/uploads/2016/07/Episode265-WPPlugins-A-to-Z.mp3
Podcast: Play in new window | Download | Embed
Subscribe: Google Podcasts | RSS | More
Thank Our Donors
WordPress News and other interesting WordPress related posts:
Interesting Sites Running WordPress:
Listener Feedback / Audio Clips
I'm glad to hear you liked it though it's a shame it didn't work with the premium theme you tried (this was no doubt a conflict with whatever builder you were using; I should add that to a disclaimer somewhere :D). I just wanted to clarify that it is in fact possible to edit posts as well: you just need to enable them from within the plugin settings (Settings > Tailor). Does that afford another half dragon?
Thanks again for a positive review and keep up the great work!
**WordPress Plugins Reviewed by John Overall**
Do you need to lock down your site to be registered users only and if anyone else hit it they only can get to the registration/login page? This is a plugin for you in its simple form just check and box and your off to the races. I inherited this plugin with a client that runs an intranet and it was modified and I have had to adjust it further so you can allow the site to open for for an IP range or a specific IP. When used with Gravity forms and the other plugins mentioned in this show you can even have it so they can register only though a specific email address and more.
Staff Directory WPAZ
WP Plugins A to Z first plugin

The Lowdown:
All in all it is pretty great plugin now we are still doing some cleanup of the interface and more will come over time for the plugin but if you need a simple staff directory check this out.
Of course since it is from WP Plugins A to Z it gets a 5 Dragon rating (kidding) it is rated at a 4
The Lowdown:
This plugin gives great tracking of everything on your site, from user sign ins to whatever changes they make. It is a great tool for helping you know what is going on and if something goes wrong you will have an idea where to look for the issue. It racks what plugins are installed removed and activated. You can expand it abilities with the pro addons such a email notifications and user monitor and more
**WordPress Plugins Reviewed by Marcus Couch**
Save
Save
Save
Save
https://www.johnoverall.com/wp-content/uploads/2016/07/featured-265.png
600
600
John
https://www.johnoverall.com/wp-content/uploads/2017/10/John-Overall-Logo-PNG-to-go-on-GREEN-Horizontal.png
John
2016-07-25 11:48:19
2016-07-27 11:17:42
WordPress Plugins A-Z #265 Security Audit Logs, Registered Users