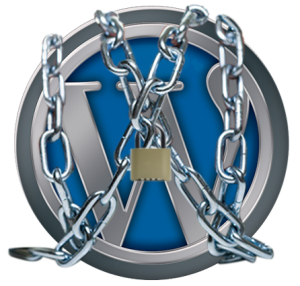 WordPress security is an ongoing concern and something to take seriously. There are over 1 Billion WordPress websites on the net and approximately 70% of them are vulnerable to being hacked for any number of reason the biggest of which is running out of date versions of WordPress.
The Presentation below talks about what is happening in the WordPress World and how you can help secure your site. There are some articles below with more information on what you might need.
Is being hacked fun? Certainly not. The worst part about it is that you could potentially lose everything. Your content. Your media. Personal data. It's natural to want to protect your site from being hacked. It's just as important as protecting your home from burglars.

There are a few ways to lock your website and WordPress install down. Unfortunately there are never any guarantees when it comes to security. That's why extra care is important. Even the most obvious or seemingly unimportant stuff could bring your security down. It's never good to leave your site vulnerable when you can take action and better protect it. At the very least, it may slow down an intruder even if it doesn't stop them completely.
Which WordPress security plugin should I install? Or how many do I need? Before you answer these questions you should first understand the concepts of WordPress security and the scope and role of each WordPress security plugin.

There is a lot of misunderstanding when it comes to WordPress security plugins and WordPress security. In this article we will look into what the problem is and why there is such a misunderstanding. We also look into the different types of WordPress security plugins available, explain what is the role and scope of each type and of course give our recommendation.
With the introduction of free and open-source Content Management System (CMS), more and more people, particularly those who wanted to venture in online businesses, are now putting their own websites in order to introduce their products and services to their demographics to the online community. One of these content management systems is WordPress, an easy to use and open-source CMS which allows you to manage your contents in a form of website, blog or other web solutions.

Here are 10 Tips in Securing and Hardening WordPress.
1. Keep WordPress Updated
2. Keep your WordPress Theme and Plug-ins Updated
3. Avoid Plug-ins that will come from outside Official WordPress Directory
4. Create custom login link and prevent access to wp-admin folder
5. Dont let anyone know you are using WordPress
6. Change the Database Prefix and Use a different Administrator Username
7. Limit Login Attempts
8. Put wp-config File in the Root Directory
9. Regularly Scan your Website
10. Backup!
So, you've just launched your new WordPress powered website. You carefully chose a theme, added some cool plugins and content. Great job!

But, are you forgetting anything? Sometimes we're in such a hurry to get things up and running that we forget some small (but nonetheless important) details.

Here are 5 things you'll want to make sure are taken care of:

Settings > General
Settings > Discussion
Settings > Permalinks
Regularly Back Up Your Site, Especially the Database
Keep a Local Copy of Important Files
https://www.johnoverall.com/wp-content/uploads/2014/10/wordpress-security.png
286
300
John
https://www.johnoverall.com/wp-content/uploads/2017/10/John-Overall-Logo-PNG-to-go-on-GREEN-Horizontal.png
John
2014-10-23 18:20:13
2014-10-23 10:25:38
WordPress Security