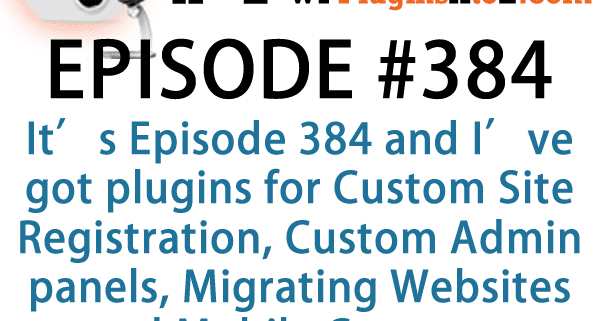 Podcast: Play in new window | Download | Embed
Subscribe: Google Podcasts | RSS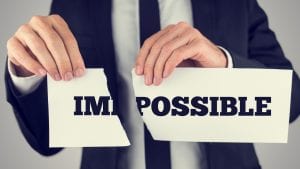 It's Episode 384 and I've got plugins for Custom Site Registration, Custom Admin panels, Migrating Websites and Mobile Contacts. It's all coming up on WordPress Plugins A-Z!
All the show notes can be found at: WPPluginsAtoZ.com
Make sure you subscribe and review the show at:
Stitcher Radio, Google Play and in the iTunes Store.
Subscribe and Check out our Training Videos, Screencasts and Watch Us Live on YouTube every Thursday at Noon PST
Follow the show on Twitter @wppluginsatoz
Join Us on Our Facebook Page
Subscribe to our Newsletter
It's the Holiday season and a time for giving thanks. Remember those in need during this time…
Today I have 4 great plugins for you.
John
To start off I have a couple plugins that I have yet to use but thought you might want to know they exist. Keep in mind the ratings are based off the descriptions on their site and using their demo if available.
Sent in by Mehreen Hussain
Pie Register – WordPress Registration Plugin – premium $39.99
Customized registration forms, verify and moderate registrations, invitation codes, membership payments, two-step verification, social login, email marketing, conditional logic and more!
Pie Register is a freemium-based plugin available for those who want their website content to be private and available for registered members only.
Below are some of the features:
Drag & Drop Form Builder
Drag & Drop fields to create registration forms for users to register to your blog or site. The PRO version allows the unlimited number of forms.
Invitation only Registration
Have an exclusive site? Let users register only when you send them an invitation code
ShortCode (Easy to Embed)
Easy to embed, makes it possible to showcase your form in Page, Post, sidebar widgets and more.
Spam Protection (ReCaptcha)
Choice of extreme spam and bot prevention by using reCAPTCHA, Match CAPTCHA, Honeypot, No CAPTCHA reCAPTCHA, and even timed submission.
Two-way Login (SMS)
With Pie Register and TWILIO you can use SMS (texting) to add additional security by having users verify registration via SMS to their cell phone. Admin can also be notified when a new user registers.
Email Notification
Control user communication exactly to your liking. Instant email notification to notify your user and admin upon new user registration.
Conditional Logic
Show or hide fields and forms based on user input. Use conditional logic to build advanced registration flows.
Social Login
Allow your site or blog users to login via their Facebook, Twitter, Google, Linkedin, Yahoo and WordPress accounts.
Payments Made Easy
Gives you a choice of payment gateways including PayPal Standard and Stripe with Authorize.net. Use any of these to process membership payments using Pie Register.
Support
We have robust open source community support Forum, our helpful How-to videos that are short and to the point. For Pie Register PRO users, use our ticketing system to get premium support directly from the Pie Register Support and Development team.
Rating 4 Dragons
Sent in by Goran Radosevic
Cusmin
This is a complete 3rd party service SAAS and while it looks like a great idea and could save tons of time. You can create some really great branded Admin panels for your clients, the big thing I fear here is what happens if your client leave you, the service fails, or you just decide the cost is no longer worth it.
What they say
We believe it's the first all-in-one solution that covers everything for preparing WordPress sites to clients.
Cusmin is SaaS solution that covers much more than other plugins in this niche. With Cusmin you can customize admin bar, admin menu, dashboard widgets, pages, secure admin pages, customize login page, add branding images and colors and much more.
Please start your free trial here and follow email instructions:
https://cusmin.com/free-trial
Demo:
https://demo.cusmin.com/logmein
Rating 3 Dragons
This show is brought to you by:
John Overall.com WordPress & Web Services
Finding quality WordPress Hosting and support can be a challenge. Well you can drop that stress by contacting JohnOverall.com web services. I can help you eliminate your WordPress stress. Solving your WordPress Emergency issues or doing the more day to day items such as finding that perfect plugin, helping you move to a new hosting provider or even providing Quality WordPress hosting.
With 20yrs. Exp on-line and over 8 years dedicated to WordPress, JohnOverall.com provides all your web service needs from hosting to WordPress development, repairs and https://wpmalwareremoval.com/.
Visit my website JohnOverall.com, Call 818-850-7729 or send an email to john@wppro.ca
Contest Info:
Contests are on Pause until December 6 as we review how everything is being done. It seems we had no entries for the contest last month. This is my fault and due to my lack of proper promotions for it along with the major changes in my life the past couple months.
Visit http://WPPluginsAtoZ.com/contests for more info.
The next plugin I have for you is:
John
CMS2CMS Connector
https://wordpress.org/plugins/cms2cms-connector/

The Lowdown:
This plugin goes with a service I first used about 5 years ago when they were brand new and I was migrating OS Commerce stores over to WooCommerce. I found it to be pretty good at the time with some missed in the transfer. It is very affordable for smaller sites.
I recently had to use it again when grabbing a site that was hosted on Google Sites and we wanted to get everything over without a lot of extra work.
The process was better than I remembered it and they offer even more CMS transfers now than they did before. It worked out great and with minimal effort I got all the content from the Google Site to the new WordPress site with only a couple glitches.
Rating 5 Dragons
Listener Feedback / Audio Clips
I like listener feedback you can leave feedback via our contact page, Speakpipe or email us direct.
iTunes Review
Just awesome
????? in iTunes by EasySchoolRegistration from Czech Republic on November 22, 2018
Thanks for the awesome work you are doing. I love interviews with plugin developers
Show Donors
This Show is a Value for Value model meaning if you get any Value out of it please give some Value back and in that vein we would like to acknowledge those that have supported the show in the past week. All donations $50 and over their note is read out and published here.
For all those who come in below $50 they will remain anonymous and we thank you very much.
This week's Donor/'s are:
And a big thank you to our donors who came in under $50 and to those who have set up weekly subscriptions.
All these small subscriptions really help the show out.
Here are ways you can support the show:
There is a new form for donations here https://wppluginsatoz.com/donate-2/
Support the show with a weekly $2.50 subscription by going http://wppluginsatoz.com/donate/
This show is listener supported and we can use more than just money to help the show grow.
Visit WPPluginsAtoZ.com to learn how you can support the show in other ways.
You can also create a monthly donation at Patreon
Remember to support the show at WPPluginsAtoZ.com.
The last plugin I have here today is:
John
Mobile Call Now & Map Buttons
https://wordpress.org/plugins/mobile-call-now-map-buttons/

Last Updated:
01 January 1970
The Lowdown:
This is one of my favourite types of plugins. Simple and easy to use. What is does is simply add two buttons to the bottom of your theme for the mobile version. One for call now and one for Directions. Easy to change the colour of the buttons to match your site and insure they stand out. Easy to adjust the mobile screen size they show up on. not allot to do it just works.
Rating 5 Dragons
Closing out this episode, the plugins I covered were:
John's Plugins: Cusmin – 3, Pie Register – 4, CMS2CMS Connector – 5, Mobile Call Now & Map Buttons – 5
Reminders / Commercial / Promotions:
Talk about WordPress MeetUp's that are coming up, the next WordPress Meetup in Victoria will be January 22, 2019 and will be broadcast Live on YouTube.
Be sure to check out and subscribe to the YouTube Channel for WP Plugins A to Z where you find training Videos, Screencasts and of course the live show every week.
Note to developers who would like to support the show. If you would like to offer up a premium license to give away please go to WPPluginsAtoZ.com/PluginContest
WordPress News and other interesting WordPress related posts:
For news and information that is related to WordPress be sure and subscribe to our Newsletter.
Just some reminders:
Remember to support the show at wppluginsatoz.com/donate
All the show notes can be found at: WPPluginsAtoZ.com
Make sure you subscribe and review the show at:
Stitcher Radio, Google Play and in the iTunes Store
Follow the show on Twitter @wppluginsatoz
Join Us on Our FaceBook Page
Subscribe and Check out our Training Videos, Screencasts and Watch Us Live on YouTube every Thursday at Noon PST
How to Contact Me:
John can be contacted at:
https://www.johnoverall.com/wp-content/uploads/2018/11/featured-384.fw_.png
600
600
Ahkonsu
https://www.johnoverall.com/wp-content/uploads/2017/10/John-Overall-Logo-PNG-to-go-on-GREEN-Horizontal.png
Ahkonsu
2018-11-29 15:23:52
2018-11-29 19:44:58
Plugins for Custom Site Registration, Custom Admin panels, Migrating Websites and Mobile Contacts in Episode 384